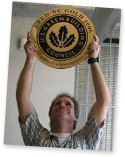 Whether you're a newcomer to green building, a pilot for a new LEED project such as our Dominican House of Formation project, or ready to take your sustainable practices to the next level, VMWP can help guide you in that direction.
As leaders in sustainable design, with LEED Accredited professionals in both of our offices, we've gained expertise on the emerging sustainability developments while continuing to incorporate the best products and practices into our plans. The power of sustainable design to impact people, our planet and profits*, reducing energy use and operating costs, benefits our clients and strengthens communities. 
Solutions Come in All Shades of Green
There are plenty of cost-effective ways to blend environmentally-friendly features into a project. It doesn't have to cost more. The key is creativity, early planning, the right team, and finding the right materials, products and systems to achieve your goals. We've been there. We do that. Let's take the next step.
*People, Planet, Profit (the three P's) refers to the basic principles behind sustainability, which create a triple bottom line.  In other words, sustainable development must consider social, environmental and economic needs, strategically creating solutions that complement each other.