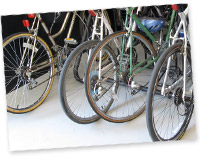 VMWP SF parking lot

When it comes to being green, we're all on a learning curve. And, just like any other process, we find it is a great learning opportunity.
That's why 40% of the people at vmwp are LEED certified professionals, while more are in the pipeline.
Greener Pastures
But composting, recycling and turning out the lights aren't enough. There's always more we can do. That's why we're constantly evaluating our practice,doing research and asking ourselves: What's next? How can we do it better? How can this become more cost-effective? We remain deeply committed to keeping pace with this moving target, to understand and implement the best green practices both in our offices and in our projects, education and advocacy and to push ourselves and our clients to go a little greener.