Building community comes naturally to us, so sometimes we forget our work is newsworthy. But we're happy to report our projects, partnerships and community involvement are making news.
Check out our latest Newsletter here.
Check out our past Newsletters here.
Winners! Sunnydale & Potrero both Receive
HUD Choice Neighborhoods Planning Grants
We are pleased to announce that the Sunnydale and Potrero Plans have each recieved a U.S. Department of Housing and Urban Development (HUD)
Choice Neighborhoods Planning Grant. San Francisco was the only city to be awarded two of the 17 grants issued nationwide. Van Meter Williams Pollack [VMWP] is the Master Plan Architect for both projects.
HUD's Choice Neighborhoods Initiative promotes a comprehensive approach to transforming distressed areas of concentrated poverty into viable and sustainable mixed-income neighborhoods. Building on the successes of HUD's HOPE VI Program, Choice Neighborhoods links housing improvements with necessary services for the people who live there – including schools, public transit and employment opportunities.
"San Francisco made a bold step by launching HOPE SF and I thank HUD for supporting us in this journey to transform our City's most distressed public housing sites into thriving communities,"
said Mayor Lee.
Read more here.
Housing Colorado 2012 Design by Community Charrettes

VMWP's Tim Van Meter was part of one of the three teams of affordable housing professionals including architects, landscape architects, planners, engineers, financial & sustainability experts, developers, & construction professionals that worked together with students, housing authorities, residents and municipal leaders to design affordable housing concepts for the sites during the 24th Annual Housing Colorado NOW! Conference in Vail.

Collaboratively, they created unique solutions for each of three real projects submitted by Colorado housing authorities representing different affordable housing needs across the State. Conference attendees were invited to engage with the design teams and provide feedback on the design process during the Conference.
Groundbreaking Celebration - Lafayette Senior Apartments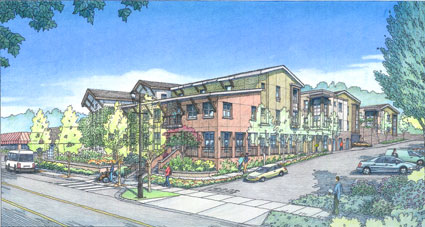 Lafayette Senior Apartments will provide 46 new affordable rental homes for lower income seniors and will include 17 apartments targeted to seniors with physical disabilities. Designed to create a healthy living environment, Lafayette Senior will include many sustainable features for energy and water conservation. Senior will have access to supportive resident services designed to help them "age in place" independently.
St. Joseph's Redevelopment Phase I Wins Awards
St. Joseph's Redevelopment Phase I received three awards of merit in the Gold Nugget Awards competition 2012. BRIDGE Housing is the developer.
Awards of Merit
Best Adaptive Re-Use Project
Best Seniors Housing Community-Affordable
Multi-Generational Concepts-Detached Housing
San Francisco Approves Its First Affordable Housing Welcoming
to LGBT Seniors
The City's first and the country's largest affordable housing specifically welcoming to lesbian, gay, bisexual and transgender (LGBT) seniors to be developed by Openhouse and Mercy Housing California was approved unanimously Thursday by the San Francisco Planning Commission. The development includes 110 apartments for low-income seniors, Openhouse service offices and an activity center for residents and LGBT seniors from across the City. Over 25,000 LGBT seniors live in San Francisco alone, many of whom do not access senior services and housing for fear of rejection and compromised care.
VMWP is proud to be part of this exciting project and will be working on the adaptive re-use and renovation of the historic Richardson Hall. This will incorporate 40 new units of LGBT friendly senior housing and residential amenities in the upper stories along with retail and office space for the nonprofit developer and service provider.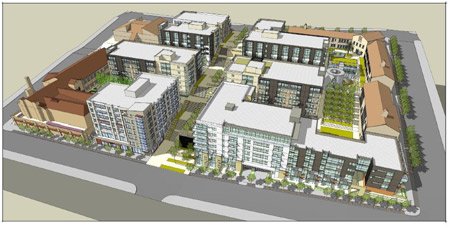 West Rivertown Place Featured in EBHO Video
Play the video below and you will take a virtual tour of three exemplary East Bay affordable housing communities. Visiting the places and meeting the faces of affordable housing is one of the most successful approaches to advocacy. Beautiful design, inclusive neighborhood planning, energy efficiency, accessibility, and committed residents and management are just some of the things that make affordable housing successful in the East Bay. Meet residents, architects, developers and others in three affordable housing communities, each created by EBHO member organizations.
Koa Ridge project approved by commission on 7-0 vote
The state Land Use Commission voted 7-0 to approve construction of Koa Ridge, the estimated $2.2 billion project calling for 5,000 homes, a hospital and commercial center on 768 acres of farmland between Mililani and Wai­pio.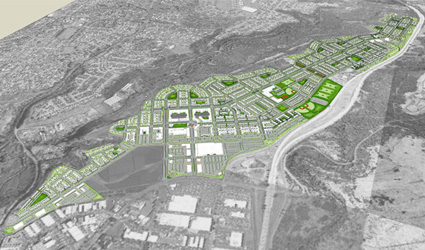 Ho'opili Approved by State Land Use Commission
After months of anticipation, the state Land Use Commission has voted in favor of Ho'opili, which will now go before the Honolulu City Council in hopes of securing approval for its healthy-lifestyle-focused community in Kapolei. Approximately 100 supporters were present to show their support for Ho'opili.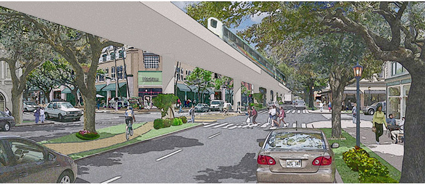 Sign Up for Our Newsletter and Get the Latest.
VMWP values your privacy and will not share your information with anyone.
Read Newsletters here.
Stay Connected with VMWP