Building community comes naturally to us, so sometimes we forget our work is newsworthy. But we're happy to report our projects, partnerships and community involvement are making news.
Check out our latest Newsletter here.
Check out our past Newsletters here.
Check out our latest projects on our New Work Page here.

Grand Opening of Arboleda Apartments
The grand opening of Arboleda Apartments, which provides 48 affordable homes to low-income families and people with special needs, will be held May 14 at 10:30am. Satellite Affordable Housing Associates is the Project Developer.
The homes are a mix of one, two and three bedroom apartments and include both two story townhomes and flats. Common amenities include a community room opening onto an expansive internal courtyard, a computer room, and a children's play structure. The project received LEED for Homes Platinum certification in recognition of the numerous environmentally sustainable features incorporated into its design.
Of the 48 apartments, 15 are reserved for households with disabilities. In addition to the apartments, the onsite services are critical to ensuring residents with developmental disabilities are living independently, accessing resources for food, transportation, home health, activities with their neighbors, and volunteer opportunities which help them remain and reach their potential in the Arboleda community.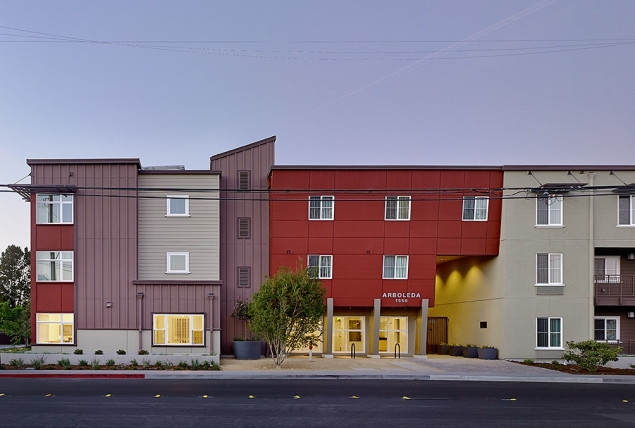 A better plan for the other side of the tracks...
Our Congress for the New Urbanism inaugural Legacy Charrettes was just featured on BetterCities.net. Click on the image to check out our work to build on Garland's downtown investments.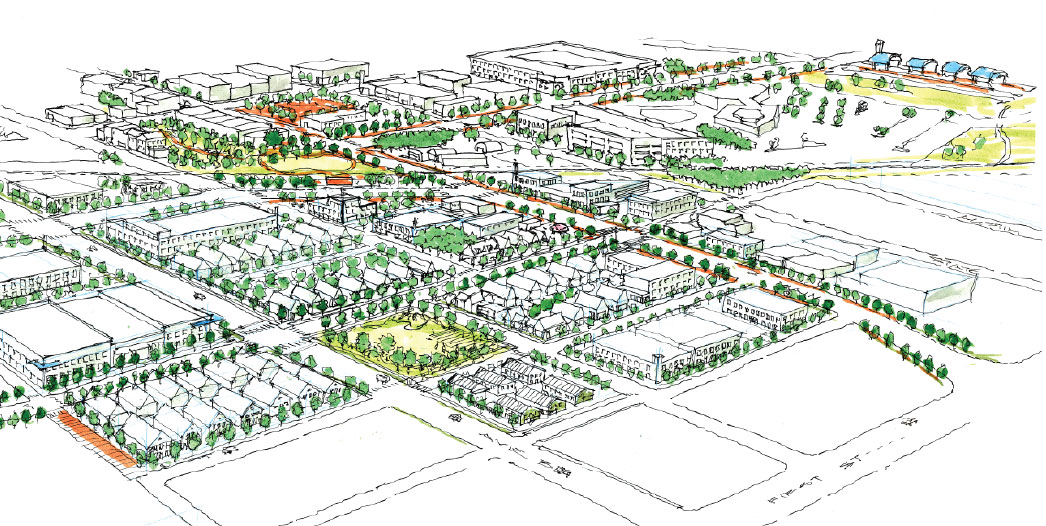 Market Hall Planned for VMWP's 2175 Market Street
San Francisco's Upper Market district will be home to the latest market hall concept to touch down in the Bay Area. The hall, called Myriad, is a 4,000-square-foot market space on the corner of Market and 15th Street. Overall, the Myriad could fit about 10 to 15 vendors, though the actual size of the spaces can be changed, because the space will be broken into movable kiosks. The new vendors will join a butcher shop, Gambrel & Co., and a bar called Mrs. Jones, as well as a coffee shop in that space.
Read the article here
Improving Housing Can Pay Dividends In Better Health
Terraza Palmera at St. Joseph's -Redevelopment Phase II, Oakland, CA and Potrero HOPE SF Master Plan, San Francisco, CA were included in a story broadcast on NPR discussing the correlation between improved housing and better health.
Improving Housing Can Pay Dividends In Better Health
Faiza Ayesh giggles with delight as she describes her brand-new two-bedroom apartment in Oakland, Calif. She shares her home with her husband and three little girls, ages 3, 2 and 5 months. Ayesh, 30, says she just loves being a stay-at-home mom. "It's the best job in the world."
Across the bay in San Francisco, another mother, Uzuri Pease-Greene, shares a two-bedroom apartment in a public housing complex with her husband, two daughters and granddaughter. What worries Pease-Greene, 49, the most about their situation is the health of her 4-year-old granddaughter, who has asthma. Marijuana and crack laced cigarette smoke seep into the apartment, including the bedroom where her granddaughter sleeps.
The girl's asthma has gotten so severe she had to be hospitalized three times. But that might soon change. The nonprofit group Bridge Housing, which builds subsidized housing for low income individuals and families, plans to tear down the buildings and develop a whole new neighborhood. Pease-Greene, who works for Bridge Housing as a junior community builder, is hopeful that it won't just deliver clean, working apartments but also a neighborhood where it's more difficult for drug dealers to openly sell drugs.
Read the full article here.

Sunnydale HOPE SF Master Plan Ready for Review
The Sunnydale community, originally built as a visionary housing solution for wartime ship builders, is ready for its formal environmental review and public hearings.
The two public hearings to review the Environmental Impact Report for the project have been scheduled for January 20 and 22, 2015.  And if approved and funded, the development will occur in three major phases.
The new Sunnydale will be redeveloped incrementally to create a network of streets that connect with the surrounding neighborhood; create a variety of housing types for a mix of incomes and provide carefully scaled park spaces and recreational opportunities lined with public facilities. Principles of sustainable "green" development for the neighborhood and greater community will be integral to this transformation.
Read the full article here, read about Sunnydale HOPE SF here.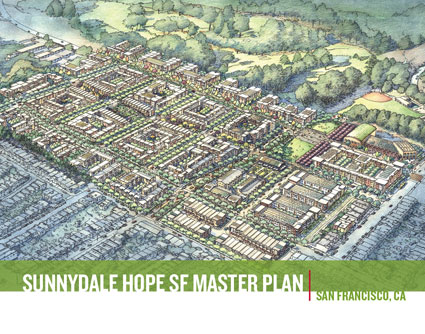 AIA San Francisco 2014 Honor Award Winner
St. Joseph's Redevelopment
St. Joseph's Redevelopment has won a 2014 AIA San Francisco Design Honor Award for Historic Preservation. In existence for nearly half a century, AIA San Francisco's Design Awards program celebrates outstanding achievements in architecture and design. BRIDGE Housing is the developer.
AIASF will host the 2014 Design Awards Exhibition to recognize the outstanding contributions of the award winners to the built environment. They will be on display at the AIA San Francisco and Center for Architecture + Design Gallery from May 12 through July 31.
The Redevelopment of the St. Joseph's Historic Campus serves as a successful public-private partnership model. By preserving and converting a dilapidated historic landmark, the development offers a significant public good to the community by providing affordable housing, neighborhood revitalization and the adaptive re-use of historic structures.
Read more on the award here, read about St. Joseph's Redevelopment here.
Fire Clay Lofts
ULI 2013 Colorado Impact Award Winner
The Urban Land Institute (ULI) Colorado has named Fire Clay Lofts the winner of the 2013 Colorado Impact Award in the Infill Category. The Impact Awards are based on the ULI Awards for Excellence, the most highly respected international program of land use awards.  As with the ULI Awards for Excellence, ULI Colorado recognized only those projects that realize ULI best practices while also providing successful business and economic models.
St. Joseph's Senior Apartments
ULI 2013 Global Awards of Excellence Finalist
The Urban Land Institute (ULI) has named St. Joseph's Senior Apartments as a finalist for the 2013 ULI Global Awards for Excellence, widely recognized as the land use industry's most prestigious recognition program.
"We are honored to be a finalist for this prestigious award," said Cynthia A. Parker, President and CEO of BRIDGE Housing. "The St. Joseph's affordable development preserves an important historic landmark in Oakland's San Antonio neighborhood, and the entire campus provides a true multigenerational housing community."
Potrero HOPE SF Master Plan Wins Gold Nugget Award of Merit -
On the Boards Site Plan

Warner Creek Senior Housing Grand Opening
Warner Creek Senior Apartments held it's Grand Opening Celebration. The project features 60 new affordable rental homes for lower income seniors to "age in place", a creek-side courtyard, several community spaces for resident activities, a computer learning center, and resident gardens. Sustainable features include bay-friendly landscaping with native plants and high-efficiency irrigation, solar hot water heaters, low-flow shower heads and high-efficiency HVAC pumps. Warner Creek is located near the downtown in close proximity to transit and amenities. Eden Housing is the developer.
Winners! Sunnydale & Potrero both Receive
HUD Choice Neighborhoods Planning Grants
We are pleased to announce that the Sunnydale and Potrero Plans have each recieved a U.S. Department of Housing and Urban Development (HUD)
Choice Neighborhoods Planning Grant. San Francisco was the only city to be awarded two of the 17 grants issued nationwide. Van Meter Williams Pollack [VMWP] is the Master Plan Architect for both projects.
HUD's Choice Neighborhoods Initiative promotes a comprehensive approach to transforming distressed areas of concentrated poverty into viable and sustainable mixed-income neighborhoods. Building on the successes of HUD's HOPE VI Program, Choice Neighborhoods links housing improvements with necessary services for the people who live there – including schools, public transit and employment opportunities.
"San Francisco made a bold step by launching HOPE SF and I thank HUD for supporting us in this journey to transform our City's most distressed public housing sites into thriving communities,"
said Mayor Lee.
Read more here.
San Francisco Approves Its First Affordable Housing Welcoming
to LGBT Seniors
The City's first and the country's largest affordable housing specifically welcoming to lesbian, gay, bisexual and transgender (LGBT) seniors to be developed by Openhouse and Mercy Housing California was approved unanimously Thursday by the San Francisco Planning Commission. The development includes 110 apartments for low-income seniors, Openhouse service offices and an activity center for residents and LGBT seniors from across the City. Over 25,000 LGBT seniors live in San Francisco alone, many of whom do not access senior services and housing for fear of rejection and compromised care.
VMWP is proud to be part of this exciting project and will be working on the adaptive re-use and renovation of the historic Richardson Hall. This will incorporate 40 new units of LGBT friendly senior housing and residential amenities in the upper stories along with retail and office space for the nonprofit developer and service provider.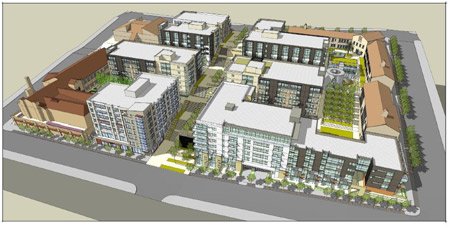 West Rivertown Place Featured in EBHO Video
Play the video below and you will take a virtual tour of three exemplary East Bay affordable housing communities. Visiting the places and meeting the faces of affordable housing is one of the most successful approaches to advocacy. Beautiful design, inclusive neighborhood planning, energy efficiency, accessibility, and committed residents and management are just some of the things that make affordable housing successful in the East Bay. Meet residents, architects, developers and others in three affordable housing communities, each created by EBHO member organizations.
Sign Up for Our Newsletter and Get the Latest.
VMWP values your privacy and will not share your information with anyone.
Read Newsletters here.
Stay Connected with VMWP