As industry leaders our work is often featured both in the press and in publications. From the local to the national level, we are proud to share the coverage our work has received.
VMWP in Publication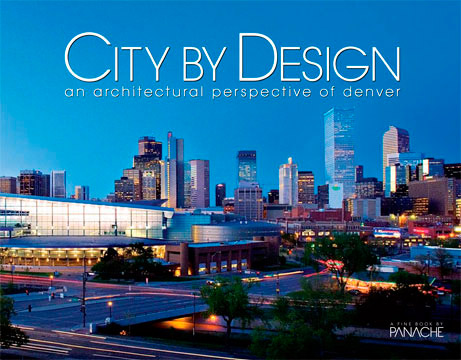 VMWP's Fireclay Lofts, North End Station and Uptown Broadway are featured projects in the City by Design - an architectural perspective of Denver. The book captures the diverse architectural fabric of the Denver area and presents a variety of exquisite spaces - including some of the city's finest mixed-use, multifamily and civic buildings - and introduces the notable firms that created them.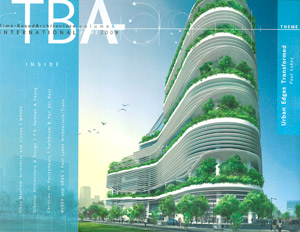 Check out TBA - Timed Based Architecture's Volume 6 article Retrofitting Suburban Form: Incremental Metropolitanism at Belmar. The article cites VMWP's Belmar in Lakewood, Colorado, as a success in converting a regional mall into an interconnected town center.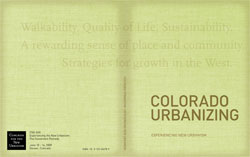 Order the limited edition CNU 17 Regional Projects Book Colorado Urbanizing Experiencing New Urbanism. The Colorado Urbanizing book is the premier guide to New Urbanism in Colorado. Over 100 projects are featured in this 128 page book. All proceeds from book sales support CNU Colorado. The book is available for $25.00. Order Here
As demographics have shifted in the past 10 or 15 years, Denver has experienced an influx of people interested in living and working in the downtown core. With new infill buildings and open spaces, downtown Denver has been transformed into a series of lively "places for people" with mixed-use office, retail, and residential buildings, municipal and cultural venues, and art-filled public plazas. With century-old brick structures, classical architecture, modern high-rises, and contemporary "green" buildings, downtown Denver presents a collage of architectural styles and urban forms that contributes to this story of urban evolution and allows for future urbanism. The projects that have brought life to downtown are highlighted in the book.
VMWP is featured in Public Transportation: leading the way. This book shows some of the best responses to the increasing need for public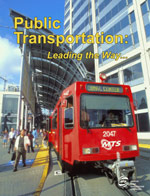 transportation, and provides an informative introduction to 24 of the most respected architects, designers and urban planners, vehicle manufacturers, engineers, and transportation technology developers working today.
VMWP's Valencia Gardens is featured in City by Design - an architectural perspective of the greater San Francisco Bay Area. This is the seventh edition of an exciting hardcover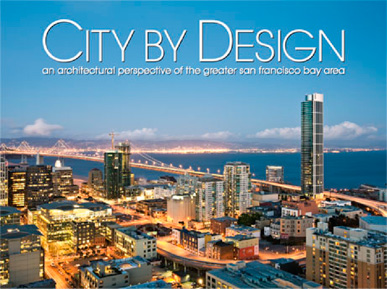 book series. Its six chapters—Built to Play and Stay, Urban Living, City Projects, Industry Leaders, Sustaining Growth and City Futures will showcase more than 250 pages of the creative designs—both built and in progress—of locally based firms.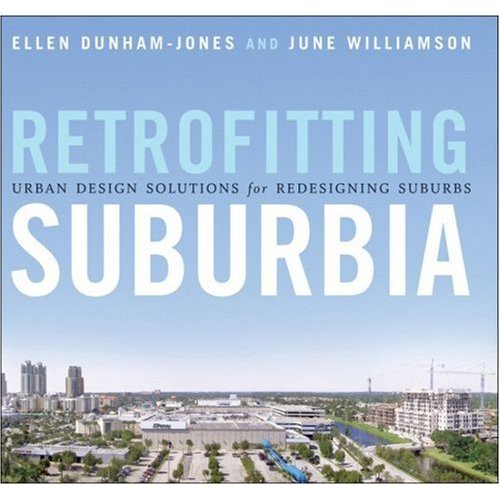 VMWP's Belmar is featured in Retrofitting Suburbia, a guide, with multiple case studies, for redeveloping out-of-date suburban developments into more urban, sustainable places. The book was recently discussed in the New York Times Blog By Design.
VMWP in the Press


Downtown Rifle redevelopment team charts changes
The Citizen Telegram, October 18 2012

New Senior Living Facilities Open in Fremont
Indiawest, June 11, 2012

"Massive" expansion of Milpitas Square recommended
Mercury News, November 3, 2010

Green design off beaten path in Visitacion Valley
San Francisco Chronicle, October 24, 2010

Upper Kirby moves to walk the livable centers walk
Memorial Examiner, June 23, 2010

Low-income housing project opens in Pittsburg
Contra Costa Times, May 2010


Modular multifamily prototypes designed
New Urban News, March 2010

Potrero Terrace-Annex Redevelopment Planning Process Continues
The Potrero View, December, 2009

Highlights of CNU 17
The Colorado Urbanist, January - December, 2009

Coralville talks redevelopment
Press-citizen, November 5, 2009

A Win after a Difficult Loss
COMPETITIONS magazine, Fall, 2009

Modular Buildings are Efficient for Urban Infill Sites
Colorado Real Estate Journal, October 7-20, 2009

Urban Design: Van Meter Wiliams Pollack LLP
Green Business Quarterly, Fall 2009

ULX Living in the Mix
Urban Land, March, 2009

Residents Urged to Brainstorm on 'live, work and play' areas
Honolulu Advertiser, March 19, 2009

City Looks at Visitacion Valley Redevelopment
San Francisco Chronicle, January 26, 2009

Large TOD Moves Forward in Hawaii
New Urban News, July/August 2008

Where New Urbanism is strong and where it's weak
New Urban News, June 2008

Promises Kept in Rivertown
Antioch Press, May 23, 2008

Superior Okays New Town Center
Colorado Real Estate Journal, March 15, 2008

ULI Case Study: Fire Clay Lofts
Urban Land Institute, 2008

Family Housing by the Sea
Urban Land, April 1, 2008

Is LEED Certification Worth It?
Multifamily Trends, March 1, 2008

Pedestrian and Transit Oriented Development for
Sustainable Communities
Solutions for Sustainability, March 29, 2008

Eden Comes to Lafayette, long awaited senior housing nears fruition
Lamorinda Weekly, November 12, 2008

THE BADGE: Valencia Gardens is safer, thanks to beat cops
San Francisco Chronicle, July 23, 2007

Low-cost housing developer makes dreams come true
San Francisco Chronicle, November 4, 2007

Dominican Convent Goes Green
Marin Magazine, March 1, 2007

Bay Area's Best Design Design Isn't Just for the Rich Anymore
San Francisco Chronicle, June 23, 2007

Infamous Project are Rebuilt and Reborn
San Francisco Chronicle, November 20, 2006

Making the Grade: Hillside development often a profitable, but rugged, path
Residential Developer, Fall, 2006

Urban Design that's smart, practical Visitacion complex shows how to add new homes to old cities
San Francisco Chronicle, June 28, 2005

Suburban Retrofits, Demographics, and Sustainability
Places, Summer, 2005

Lofty Ambitions
Professional Builder, August 01, 2001