Posted on: April 3, 2020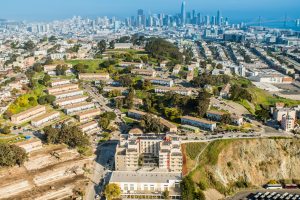 Congratulations to the 1101 Connecticut team for earning #LEEDPlatinum certification!
Responding to the community's request to create a healthy development, the project features photovoltaic on-site energy generation, solar thermal panels, and a ~22,000 gallon stormwater collection cistern, 100% of the stormwater is infiltrated or collected and treated on site. The .69-acre site and has been awarded LEED for Homes Midrise Platinum.
We would like to thank our partners: BRIDGE Housing Corporation, Y.A. studio, Sun Light & Power, Cahill Contractors, Association for Energy Affordability, Inc., GLS Landscape | Architecture,  and Bright Green Strategies.
Posted in: News