Posted on: April 3, 2020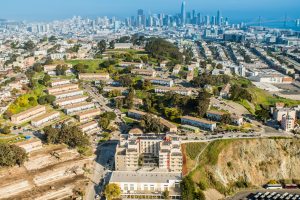 Congratulations to the 1101 Connecticut team for earning LEED Platinum certification!
Responding to the community's request to create a healthy development, the project features photovoltaic on-site energy generation, solar thermal panels, and a ~22,000 gallon stormwater collection cistern, 100% of the stormwater is infiltrated or collected and treated on site. The .69-acre site and has been awarded LEED for Homes Midrise Platinum.
LEED (Leadership in Energy and Environmental Design), developed by the U.S. Green Building Council (USGBC), is the most widely used green building rating system in the world. Through design, construction and operations practices that improve environmental and human health, LEED-certified buildings are helping to make the world more sustainable.
"We have been committed to environmentally sound, smart-growth development for many years," said Cynthia A. Parker, President & CEO of BRIDGE Housing. "We're extremely proud that 1101 Connecticut earned LEED Platinum, as we know that green buildings are healthier for the people who live in them and also benefit the broader community."
We would like to thank our partners: BRIDGE Housing Corporation, Y.A. studio, Sun Light & Power, Cahill Contractors, Association for Energy Affordability, Inc., GLS Landscape | Architecture,  and Bright Green Strategies.