Posted on: June 24, 2022
Forthcoming 100% affordable housing development will provide 70 new homes for low-income and previously unhoused residents
Source: SFMAYOR.ORG
San Francisco, CA — Today, Mayor London N. Breed and representatives from the California Department of Housing and Community Development and local community leaders celebrated the groundbreaking of 180 Jones, located on the southwest corner of Jones Street and Turk Street in the Tenderloin. The project will provide 70 new permanently affordable homes for low-income residents, including 35 subsidized units for previously unhoused adults.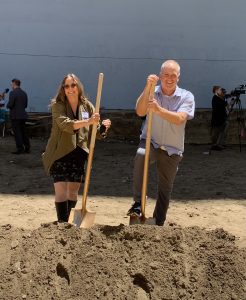 The 70 new homes at 180 Jones are part of Mayor Breed's goal to build 5,000 new homes at all levels of affordability each year, and builds on her Homelessness Recovery Plan, enacted in July 2020, to expand housing and shelter options over two years for the unhoused, including the largest expansion of permanent supportive housing in 20 years.
"Expanding access to affordable housing throughout San Francisco is critical to our city's economic recovery," said Mayor Breed. "We have to continue advancing projects like this if we want to reach our ambitious housing goals and make San Francisco a more affordable city for all of our residents. But we also can't do it alone—we need support from our partners. Thanks to the help of Governor Newsom and our city agencies, residents of the Tenderloin will soon have a new place to call home for generations to come."
Located in the heart of the Tenderloin community, 180 Jones will be a nine-story, 38,500 square foot building centered on tenant needs. In addition to an on-site manager unit and the 35 subsidized units for adults exiting homelessness, 34 units will serve low-income residents making between 40% and 65% of the Area Median Income (AMI).
Amenities for 180 Jones residents will include a ground-floor community room, tenant lobby, property management with 24-hour desk clerk, on-site social workers, free fiber internet courtesy of the City's Fiber to Housing program, and a second-story landscaped courtyard open to the street, providing much needed green relief to the dense urban neighborhood. Along with the aforementioned amenities, 180 Jones will seek a LEED Gold Certification, one of the highest certifications for sustainable construction, and feature a mural honoring the Tenderloin's history. It is anticipated that 180 Jones will be move-in ready by late 2023.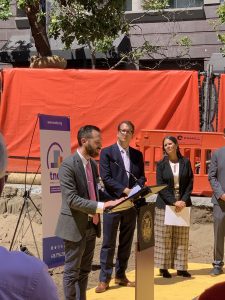 "I am thrilled to break ground on 70 affordable homes in the newest part of my District, the Tenderloin," said Supervisor Dean Preston. "This project was made possible by the dedication and commitment from resident leaders and neighborhood organizers, part of an extended community benefits effort. I want to thank them all for their devotion to making this neighborhood a place where working people can afford to live."
The forthcoming development at 180 Jones was made possible by financing from the Mayor's Office of Housing and Community Development (MOHCD) and the California Department of Housing and Community Development (HCD). The project received a Multifamily Housing Program (MHP) award and California Housing Accelerator Tier 1 funds, made available through the Coronavirus State Fiscal Recovery Fund (CSFRF) established by the federal American Rescue Plan Act of 2021 (ARPA). The project was awarded $23.8 million in Accelerator funds on February 3, 2022, making it the second California Housing Accelerator Fund deal to close in San Francisco.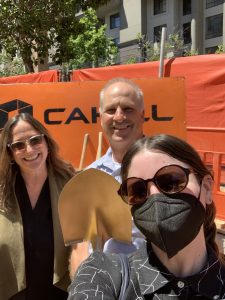 "From transforming an underutilized infill lot to providing deeply affordable, climate-smart homes, 180 Jones is a model for how California investments like the Accelerator will get us closer to 1 million lower-income homes needed by 2030, as outlined in our Statewide Housing Plan," said Gustavo Velasquez, Director, California Department of Housing and Community Development. "The Accelerator projects we have awarded so far would have taken years and more funding sources to complete, but we plan to see them all break ground on thousands of units this summer."
The project developer, Tenderloin Neighborhood Development Corporation (TNDC), is providing in-house property management and social services to ensure future tenants have a built-in support network to help them adjust to their new home and remain stably housed. More than 6,100 people live in TNDC's 44 buildings, located both in the Tenderloin and across seven other San Francisco neighborhoods
"TNDC has been proudly creating and advancing the Tenderloin community for the last 41 years. Breaking ground on 70 supportive and affordable homes at 180 Jones is a reflection of this community's passion and care," said Maurilio León, CEO, TNDC. "Tenderloin activists paved the way for 180 Jones to become affordable housing, and TNDC is honored to carry out our shared vision of a more equitable Tenderloin with the support of MOHCD, HCD, and many others."
Cahill Contractors has pledged that 30% of all construction trade work and 50% of apprentice work at 180 Jones will be performed by local residents. Cahill will partner with the Office of Economic and Workforce Development's CityBuild program on workforce referral and training initiatives. Local firms Silicon Valley Bank, Van Meter Williams Pollack LLP (VMWP), Waypoint Consulting, and Gubb & Barshay were also enlisted on the project.
Posted in: News