Posted on: January 12, 2022
Santa Clara County approves $21 million loan to cover increased construction costs of teacher housing project in Palo Alto
Source: Mercury News
By GABRIEL GRESCHLER | ggreschler@bayareanewsgroup.com | Bay Area News Group
PUBLISHED: January 11, 2022 at 5:04 p.m. | UPDATED: January 12, 2022 at 4:25 a.m.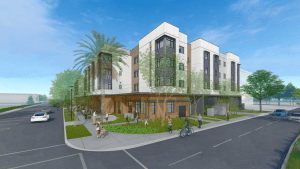 In approving a long sought apartment project for Peninsula teachers, Santa Clara County supervisors on Tuesday agreed to lend the developers $21 million to help cover soaring construction expenses.
….
Apartments on the 1.5 acre site at 231 Grant Ave., across the street from the county's superior court building, would go to Peninsula teachers who don't qualify for low-income subsidies but cannot afford the area's expensive rents.
The supervisors noted that teachers regularly have to commute hours away from their jobs because of the Peninsula's high housing costs, which has contributed to high turnover at area schools.
Efforts to create teacher housing began in 2017, and multiple groups have come forward to help fund it. Local school districts and the city of Palo Alto have contributed several million dollars, and in 2019 Facebook pitched in $25 million as part of a wider effort to address a housing crisis it and other tech companies have been blamed for exacerbating.
To read the complete article and the rise in cost estimate, click here.
Posted in: News