Posted on: August 3, 2020
Source: BDC Network
Posted by David Malone | Monday, August 3, 2020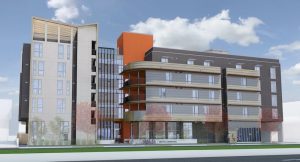 Courtesy Alta Housing
Located on the 0.61-acre site of a former Taco Bell at 950 W. El Camino Real in Mountain View, Calif., a new 71-unit rental community has broken ground.
The 100% affordable housing project will comprise independent living for a mix of single- and two-person households earning between 50% and 70% of the area median income. Fifteen of the units are reserved for adults with intellectual or developmental disabilities.
The community will feature on-site amenities such as a roof-top deck; outdoor lounges on the second, third, fourth, and fifth floors; and a community room with a kitchen, a conference room, a library, and laundry facilities.
The project is conveniently located within a quarter-mile of the Mountain View community shuttle and four bus lines, making it ideal for residents without a car, and will also include a bicycle parking space and a storage locker for each resident.
Project developer Alta Housing will provide on-site management and services to residents, including case management, resident engagement, educational assistance, health and wellness programs, financial planning courses, job counseling, and assistance with accessing community resources.
The project's designer is Van Meter Williams Pollack; the general contractor is Nibbi Brothers; Luk and Associates is the civil engineer; Murphy Burr Curry (MBC) is the structural engineer; Fard Engineers is the mechanical electrical and plumbing plans (MEP) engineer; and Hill Associates is the landscape architect.
Posted in: News