Posted on: May 26, 2020
Join Us via Zoom for the 8315 East Colfax Town Hall on Thursday, June 4 at 6:30 p.m.

Your voice is valued and important!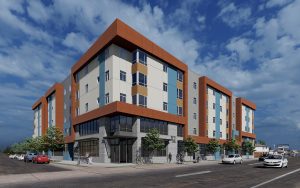 Affordable housing and high-quality early childhood education are becoming more difficult to access for families in Denver. The 8315 East Colfax project is creating opportunities for these two essential community resources.
Mercy Housing is proud to collaborate with the City of Denver, Mile High Early Learning, Van Meter Williams Pollack, and Radian, on an affordable, mixed-use development at 8315 East Colfax Avenue (Valentia & Colfax).
The 8315 East Colfax project is designed to fully support individuals and families by offering affordable housing and quality early childhood education that includes:
81 affordable apartments with eligibility income ranges at 30-70% area median income (AMI) for individuals and families.

5,400 sq. ft. of ground-floor space dedicated for an early childhood center with an additional 2,000 sq. ft. for an outdoor play area.

Structured parking spaces on the ground floor provided free-of-charge on a first-come, first-served basis.

On-site resident services programming provided by Mercy Housing including financial literacy, vocational training and job readiness, youth programming, and health navigation services.

Easy access to public transportation.

Walking distance to more than 200 community-serving businesses.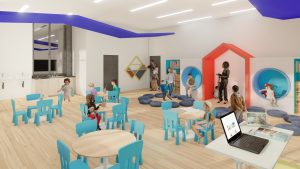 During the call, you'll have the opportunity to share your feedback on design concepts, ask questions to a panel of project partners, sign up for our upcoming Early Childhood Education focus group, and be an important partner in helping us learn more about early child care needs and desires in your community.
Questions about the 8315 East Colfax Avenue Town Hall and/or technical assistance support? Feel free to contact Dee Dee DeVuyst at deedee@radianinc.org.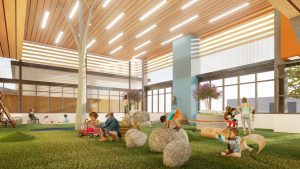 We look forward to seeing you via Zoom on June 4! Please RSVP and save the Zoom link to your calendar. Your RSVP will allow us to send you Town Hall reminders, project updates, and future opportunities to participate. The 8315 East Colfax Town Hall will be recorded and made available at https://www.8315eastcolfax.org/.

Join Zoom Meeting:
https://zoom.us/j/92483464971
Call-in via Phone:
Phone number: 346.248.7799
Meeting ID: 92483464971#
Posted in: News