Posted on: August 30, 2021
Source: SF YIMBY; Author: Palak Japlot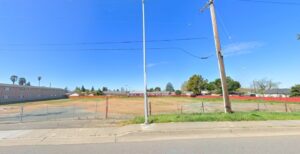 15101 Washington Avenue Site via Google Maps
A new affordable housing project has been proposed at 15101 Washington Avenue in San Leandro. The project proposal includes the development of an apartment complex on a vacant lot near Greenhouse Marketplace.
Abode Communities is the project developer.
The project site is a parcel spanning an area of 1.3 acres. The project will bring a residential complex featuring 72 apartments. The residences will be offered as a mix of three studios, 33 one-bedroom apartments, and 18 two and three-bedroom apartments.
A parking garage with a capacity of 73 vehicles will be developed on the site. 80 bike parking spaces will also be designed. On-site amenities are inclusive of a laundry room, children's outdoor play area, and one on-site manager's unit.
The project secured $7 million from the city. The total cost for the development is estimated at $48 million, with each apartment costing about $664,000 to build.
Construction is anticipated to begin early in 2023 and to be wrapped at the end of 2024.
Read the full article here.
Posted in: News