Posted on: April 25, 2021
Source: SF YIMBY, Palak Japlot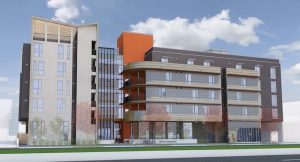 Palo Alto-based Alta Housing has topped out for a 100 percent affordable housing project at 950 West El Camino Real, in Mountain View. Photos by SFYIMBY show that construction has topped out, glass installation is underway, and facade installation is being prepped for the residential complex.
Van Meter Williams Pollack is the architecture firm managing the design concept and construction. Hill Associates is the landscape architect.
The project site is a 0.61-acre parcel, previously occupied by a Taco Bell. Named Luna Vista, the project features 71 housing units, offering independent living for a mix of single and two-person households earning between 50% to 70% of the area's median income. The developer has reserved fifteen units for adults with special needs. On-site amenities are inclusive of a roof-top deck, a community room with a kitchen, a conference room, a library, and a laundry unit. Outdoor lounges on the second, third, fourth, and fifth floors are also designed. The complex will also have a bicycle parking space and a storage locker available for each resident.
Alta Housing is also providing on-site management and services to residents, including case management, resident engagement, educational assistance, health and wellness programs, financial planning courses, job counseling, and assistance with accessing community resources.
The project has secured funding from the City of Mountain View, Wells Fargo Bank, and Low Income Housing Tax Credits. Acquisition funding was provided by the Housing Trust of Silicon Valley.
The property is situated centrally on El Camino, a block north of Downtown Mountain View. Its location benefits residents especially without a car as the property is located within a quarter-mile of bus stops for VTA 22, 52, 81, and 522.
The 950 team wanted public art to connect the building, future residents, and the Mountain View community, so, they reached out to the Morgan Autism Center and the Mountain View Community Arts Organization to help. Clients at the Morgan Center, who could one day be residents at 950 ECR, agreed to make art for the team to use. Their colorful and bold artwork, which includes 64 pieces, was photographed and printed on glass panels that will be in entryway and lounge spaces. Sunlight will cast the shadows of these works on the floors in the lobby and lounge spaces.
The estimated date of project construction has not been announced yet.
Posted in: News