Posted on: August 1, 2022
Source: Urbanize Atlanta  Author: Josh Green
Polished, residential-heavy concept called "Global Villages" comes into focus, in hopes of creating the Gwinnett Place To Be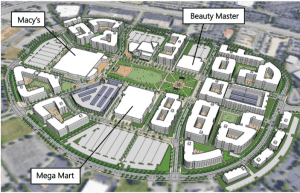 After a slow death that's dragged across two decades, the clearest vision to date for a Gwinnett Place Mall rebirth has arrived.
Ten months after the Gwinnett Place Community Improvement District selected a planning firm to lead the 1984 mall's redo, a polished revitalization strategy dubbed "Gwinnett Place to Be" breaks down how the moribund, vehicle-centric complex could work as a more diversified, dense, and engaging district.
Following input from some 2,500 people, the Gwinnett Place To Be team took the strongest elements from two drafts and fused them into one final redevelopment concept that's come to light this week.
The concept overwhelmingly favored by the public, according to project leaders, is a residential-heavy one called "Global Villages," where a central park would be the communal nucleus, all roadways would be "Complete Streets" with connections to other key points in Duluth, and enhanced transit options could include BRT (bus rapid transit) and a new transit center.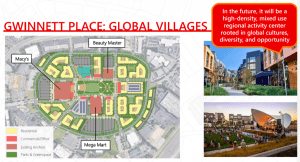 Overview of the concept preferred by the majority of 2,500 people quizzed about the mall property's future, according to project leaders.Gwinnett Place CID/ARC/GwinnettPlaceToBe.com
The action plan might not be as slick (yet) as the fly-through video showing Alpharetta's North Point Mall sprung to life, but the two concepts bear similarities—namely the obliteration of traditional enclosed mall structures and the infusion of housing nodes and greenspace.
Specifically, the Gwinnett Place To Be action plan calls for 2,700 new residential units, with a mix of market-rate and affordable housing. (For context, about 3,000 apartments and condos are spread across Atlantic Station.) Seven villages would be centered around plazas, pocket parks, and pathways.
Other components: Between 50,000 and 100,000 square feet of new retail; 25,000 square feet of offices; about 13 acres of parks (including the 4.4-acre centralized greenspace); a 40,000-square-foot cultural center, and more structured parking covering 2.4 acres.
For the most part, the only surface parking lots remaining, per the concepts, would be those serving the existing big-box retail: Macy's, Mega Mart, and department store Beauty Master. Those would function as unconnected retail islands amidst the new homes, parks, offices, and retail.
Plans call for implementing the changes and building what's effectively a new mini-city with a combination of private developer dollars and public funding. The project's cost and construction timeline are TBD.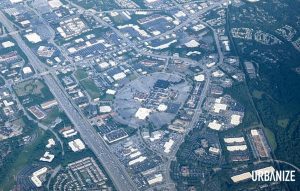 Gwinnett Place Mall's oval-shaped land of opportunity, as seen from thousands of feet above this month.Josh Green/Urbanize Atlanta
Gwinnett County bought most of the 39-acre mall property last year for $23 million from developer Moonbeam Capital Investments, which had failed to kickstart Gwinnett Place redevelopment dreams that've been bandied about for more than a decade.
Leading the study is Gwinnett Place CID, alongside Gwinnett County government, Atlanta Regional Commission, and the community planning firm picked last year, Massachusetts-based Vanasse Hangen Brustlin, or VHB. According to Gwinnett CID officials, VHB has a track record of successful mall redevelopment and "identifying the best possible development opportunities for sites in transition" across the country.
Gwinnett Place has fallen far from its heyday as the region's premier suburban shopping center. It debuted to great fanfare in 1984 as Gwinnett's first mall, with original anchors that included Rich's, Sears, and Davison's. Regular visitors flocked from as far as South Carolina.
Challenges came with the openings of two more Simon Malls properties, Mall of Georgia in 1999 and Discover Mills in 2001, that pulled from the Gwinnett Place customer base. As tenants dwindled, Simon Malls eventually cut bait with the faltering mall in 2012—followed by another blow two years later, the departure of anchor tenant Belk.
Promises of revitalization by previous ownership never materialized. The most exciting investment in Gwinnett Place Mall in recent years came when Netflix's Stranger Things transformed its interiors into circa-1980s mall sets for two seasons.
Gwinnett leadership has previously cited the Belmar mixed-use district in Denver and Houston's CityCentre as potential sources of inspiration for Gwinnett Place. Proximity to Interstate 85, Ga. Highway 316, Gas South Arena, and the cultural melting pot that Duluth has become are considered selling points. Apart from the big-box stores, the mall is technically closed today.
So what's next? Before the redevelopment concept can be brought before Gwinnett County government for approval, plans call for coming up with a detailed implementation strategy, getting on the same page with redevelopment partners, and then drafting a finalized Gwinnett Place Revitalization Strategy Document.
Read the full article here.
Posted in: News