Posted on: February 17, 2023
ARVADA, Colo. (KDVR) — A new affordable housing community located in the heart of Olde Town Arvada is now complete.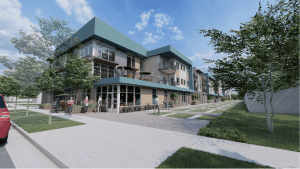 AVi at Olde Town features 100 one-and two-bedroom units, but 30 are reserved for foster youth facing housing insecurity and 10 are reserved for veterans experiencing homelessness.
The new community is a collaborative effort between CASA of Jefferson & Gilpin Counties and Foothills Regional Housing.
"Foster youth that transition onto being on their own, the statistics aren't favorable. A lot of them end up homeless or in precarious situations," Kristen Gines with Foothills Regional Housing said. "This particular property is even more unique than just a run-of-the-mill affordable unit. We have services layered into AVi at Olde Town."
Gines said they offer wrap-around services for foster youth and veterans, including an on-site service coordinator to help with health care enrollment, housing retention and connecting residents to other resources.
"You could put a roof over anyone's head, but there are needs that other people have and just finding those resources available and bringing them to the door as opposed to go out and find it, seek it," Gines said. "We bring it to them and that's very helpful."
Gines said there are still units available with move-in dates beginning mid-February for households making under 70% of the area median income, or $65,660 a year for a two-person household.
"It's been a labor of love," Gines said. "Every time we open those doors and see the faces of family members and of people that are getting new homes is just amazing."
Donations are still being accepted to furnish the 30 units for youth through CASA's donation page or by emailing Ashley Noel at anoel@foothillsrh.org with donation questions.
For more on AVi at Olde Town, visit www.foothillsrh.org
Posted in: News