Posted on: July 29, 2020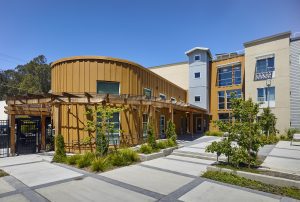 Colma Veterans Village has been announced as a Special-Needs Finalist in the Affordable Housing Finance's 2020 Readers' Choice Awards for its role in helping meet the housing and health needs of vulnerable veterans in the San Francisco Bay Area. The 66 unit affordable veterans housing community situated between Cypress Lawn and Holy Cross cemeteries along Mission Road, provides a new three-story residential building, and the preservation of the historic pump building for use by residents. Veterans Village includes resident amenities such as a social hall, craft area, and bicycle storage. The community also includes two large residential courtyards and a large resident open space that includes raised bed garden areas, an orchard, and a fenced dog run.
The huge shortage of affordable housing has long been felt in communities across the country, but the importance of a safe and affordable to place to live has taken on greater urgency this year. The COVID-19 pandemic has magnified the importance of housing, a place to shelter during emergencies. The economic crisis brought on by the coronavirus is expected to increase the need for affordable housing as more than 40 million people have lost work and applied for unemployment benefits during the pandemic.

Affordable housing serves families, seniors, formerly homeless veterans, and people with special needs.

Here, we present 32 developments from 19 states and the District of Columbia that show the diversity and complexity of these communities. They are finalists in Affordable Housing Finance's 16th annual Readers' Choice Awards, recognizing the best developments from 2019 and 2020.

Read about the finalists on the following pages and at housingfinance.com. AHF magazine and newsletter subscribers can then vote for the winners in 10 categories, as well as an overall winner. Voting takes place from July 1 to July 31 and is restricted to subscribers as of June 30.