Posted on: May 24, 2023
AVi at Olde Town Award of Excellence
The Colorado National Association of Housing and Redevelopment Officials (NAHRO) has awarded the prestigious Awards of Excellence to AVi at Olde Town. The project has been Awarded Best Project for 2023, celebrating the best of affordable housing in Colorado.
AVi at Olde Town, formerly Allison Village, is an existing 37-unit apartment community constructed in 1980, sitting on a parcel of approximately 2 acres at 5352 Allison Street, Arvada. The site is a half-mile from the Olde Town Arvada commuter rail station and the walkable amenities of Olde Town Arvada. The new development will increase density with 100 new dwelling units featuring a mixture of walkups and private entry through the building's lobby and two-story common space, 30 units are reserved for aged-out foster youth, and 9 units for homeless veterans. 5% of AVi apartments are designed as mobility units to accommodate tenants with physical challenges.
Support services will be provided through an onsite job training center in partnership with Child Advocates Denver CASA who will work directly with residents to provide a safe and nurturing environment where residents can thrive emotionally, mentally, and physically in a new permanent home. The on-site support organization specializing in veterans services at AVi will be Veterans Affairs.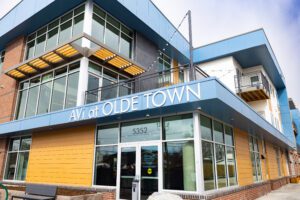 About the Awards  
The NAHRO Awards of Excellence winners who are recognized for outstanding achievement in housing and community development programs in five categories: Administrative Innovation recognizes innovative methods in areas such as maintenance, community relations, and interagency cooperation. Program Innovation — Affordable Housing includes special programs for homeownership, public/private partnerships, and innovative financing. Program Innovation — Community Revitalization includes innovative use of programs in areas such as economic development, neighborhood preservation, and creative financing. Program Innovation — Resident and Client Services includes innovative use of programs such as special activities for children, families, and the elderly, anti-drug programs, social services, and self-sufficiency. Project Design includes efforts such as new housing design, housing modernization, enduring design, and landscape design.
The NAHRO Agency Awards program was created 20 years ago to recognize agencies who found innovative ways of making a difference in their communities and in the lives of the people they serve by creating affordable housing, revitalizing their neighborhoods, and developing initiatives such as job readiness programs, public-private partnerships, disaster prevention projects, and more. The selected programs were innovative in their approach to creating and utilizing creative systems to implement essential housing and community development programs. These programs can be replicated by other agencies to resolve industry-wide problems.
About NAHRO 
NAHRO, established in 1933, is a membership organization of more than 19,500 housing and community development agencies and professionals throughout the United States whose mission is to create affordable housing and safe, viable communities that enhance the quality of life for all Americans, especially those of low- and moderate-income. NAHRO's membership administers more than 3 million housing units for 8 million people.