Posted on: August 8, 2018
THORNTON, CO. – Wednesday, August 8, 2018, elected officials; community leaders; and senior, housing, and health advocates came together today to celebrate the groundbreaking of Crossing Pointe North at 104th and Colorado in Thornton.
City of Thornton Mayor Heidi Williams; Cris White, Executive Director and CEO of Colorado Housing and Finance Authority (CHFA); Eric Montoya, City of Thornton Council member; and Eva Henry, Adams County Commissioner spoke at the groundbreaking about the importance of providing affordable housing options for seniors in our community.
This senior affordable housing project is unique due to its focus on providing healthy living opportunities. It is exceptionally located with a grocery store, commuter rail station, the new Thornton Active Adult Center, and open space all within one mile. Crossing Pointe meets the desire of many seniors who want to "age in place" by having apartment units that have accessibility fixtures built in. A Community Services Specialist will work on-site with residents to connect seniors with the wrap-around services they need to live active, independent lives.
The new community will feature one- and two-bedroom apartments of much-needed senior affordable housing for low-income residents earning 30, 40, 50, and 60 percent of Area Median Income. This housing is particularly needed in this area since Thornton has the highest median rent ($1,150/month) of all municipalities in Adams County.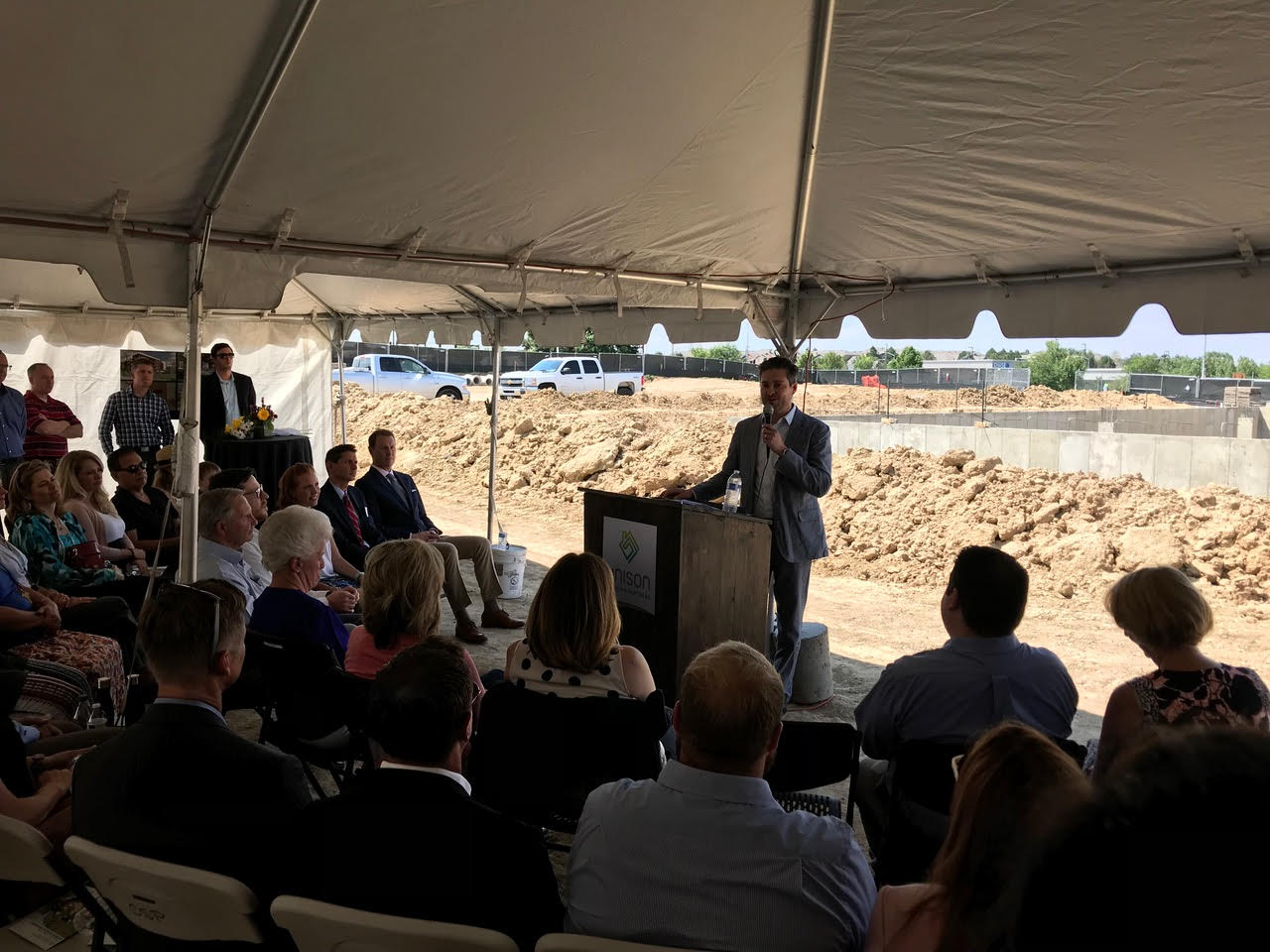 Unison Housing Partners (Unison) was awarded highly competitive 9% Low Income Housing Tax Credits (LIHTC) from CHFA to make Crossing Pointe North, part of the Thornton Crossroads Station area, a reality.  Additionally, Thornton provided over $1.2M in financial incentives, the first of its kind for housing in Thornton. Wells Fargo Affordable Housing Community Development Corporation is the LIHTC investor and Wells Fargo Community Lending & Investment is the construction lender.
Peter LiFari, Unison Executive Director, said, "Here at Unison we believe in the power of multigenerational housing models. Crossing Pointe North is the first of two phases that will ultimately provide up to 206 homes for single folks, families and here at Crossing Point North we have started this journey with 64 apartment homes for elderly persons. This burgeoning national model is one that is rapidly taking hold because the outcomes for all members are significant. Regular social interaction for both seniors and families create meaningful relationships, the kind that periodic volunteer engagements while well intended, struggle to create. We envision a vibrant, thriving community that allows for organic interactions, created by and for those that call Crossing Pointe home for many years to come."
source: unisonhp.org
Posted in: News