Posted on: May 23, 2022
NAHRO Announces Award of Excellence Winners
The National Association of Housing and Redevelopment Officials (NAHRO) recently awarded 18 prestigious Awards of Excellence to 14 housing and community development organizations for creating innovative programs that improve their communities.
The 18 award-winning programs were selected by regional juries from a pool of Awards of Merit recipients. The winning programs must improve resident outcomes, resolve problems, and be replicable by organizations of similar size. They must also produce tangible results such as cost savings, enhanced productivity, improved client services, and better service coordination.
"These awards put a spotlight on the vital work that NAHRO members do nationwide, and show how creativity and collaboration can lead to success," NAHRO Interim CEO Mike Gerber said. "Congratulations to this year's winners! You've set the bar high."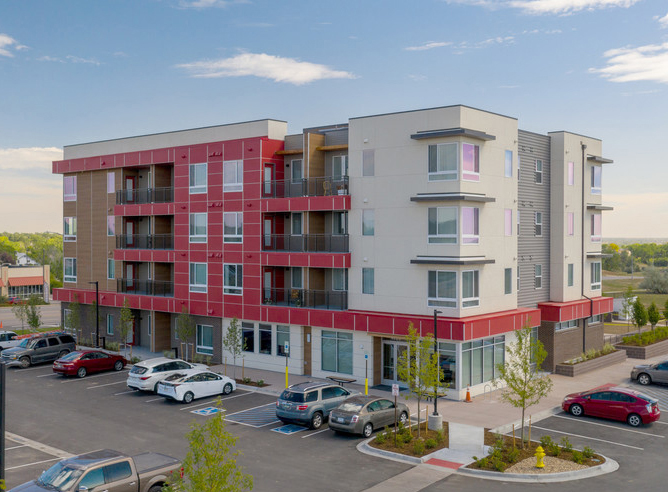 Crossing Pointe North is an affordable senior and family housing community located adjacent to the Colorado & 104th St. light rail station in Thornton, Colorado. Though the affordable housing project is within walking distance of community-serving retail, the site is bound by permanent open space on two sides.
Crossing Pointe North is the first completed building within a larger site plan that incorporates three buildings organized around landscaped courtyards which will serve as extensions of the various amenities provided. Crossing Pointe North's features and courtyards both encourage community building and promote a healthy lifestyle by providing spaces for interaction and healthy activities like vegetable gardens, active play equipment and gathering plazas. Two of the buildings in the larger plan will be four-story multifamily residential, while the third, Crossing Point North is a four-story senior living building. Together the affordable housing project will provide 206 dwelling units with surface and underground parking. The units at grade have walk-up entries and patios fronting the courtyards, while the upper units enjoy mountain views to the west.
Two indoor community spaces in Crossing Pointe North create gathering and amenities for the senior residents as well as for their families in separate facilities.
Awards of Excellence Honorees
Administrative Innovation 
Preserving Affordable Housing in the City of San Diego, San Diego Housing Commission
Adams County COVID-19 Rental and Mortgage Assistance Relief Fund, Maiker Housing Partners
2020 Human Resources Accomplishments "2020 Seeing Things in a New Light – Cultural Diversity", Houston Housing Authority
Affordable Housing 
Golden Apartments – A Permanent Supportive Housing Development for Homeless and Chronically Homeless Individuals, The Housing Authority of the County of San Bernardino
Crossing Pointe North, Maiker Housing Partners
Valor Pointe, PSH for Homeless Veterans, Idaho Housing and Finance Association
The Hub of Opportunity, Housing Connect
Project Design  
The Art of Urban Farming at Meacham Urban Farm, Encore Development, Tampa Housing Authority
Capehart Playground and Splashpad, Bangor Housing
An Innovative Approach to Philly's Urgent Housing Demand, Philadelphia Housing Authority
Corpus Christi Housing Authority Thanksgiving Homes Affordable Housing, Corpus Christi Housing Authority and Affiliates
Artisan at Ruiz, San Antonio Housing Authority
East Meadows ll, San Antonio Housing Authority
Resident and Client Services 
Maintaining and Increasing Resident Services During the Pandemic, The Housing Authority of the County of San Bernardino
Section 3 Promotion and Resident Awareness, Rockford Housing Authority
Remote Learning Centers, Philadelphia Housing Authority
The Big Blue Bike Barn, Newport Housing Authority
Breaking the Digital Divide in the Public Housing Program, Harlingen Housing Authority
About the Awards  
The NAHRO Awards of Excellence winners who are recognized for outstanding achievement in housing and community development programs in five categories: Administrative Innovation recognizes innovative methods in areas such as maintenance, community relations, and interagency cooperation. Program Innovation — Affordable Housing includes special programs for homeownership, public/private partnerships, and innovative financing. Program Innovation — Community Revitalization includes innovative use of programs in areas such as economic development, neighborhood preservation, and creative financing. Program Innovation — Resident and Client Services includes innovative use of programs such as special activities for children, families, and the elderly, anti-drug programs, social services, and self-sufficiency. Project Design includes efforts such as new housing design, housing modernization, enduring design, and landscape design.
The NAHRO Agency Awards program was created 20 years ago to recognize agencies who found innovative ways of making a difference in their communities and in the lives of the people they serve by creating affordable housing, revitalizing their neighborhoods, and developing initiatives such as job readiness programs, public-private partnerships, disaster prevention projects, and more. The selected programs were innovative in their approach to creating and utilizing creative systems to implement essential housing and community development programs. These programs can be replicated by other agencies to resolve industry-wide problems.
About NAHRO 
NAHRO, established in 1933, is a membership organization of more than 19,500 housing and community development agencies and professionals throughout the United States whose mission is to create affordable housing and safe, viable communities that enhance the quality of life for all Americans, especially those of low- and moderate-income. NAHRO's membership administers more than 3 million housing units for 8 million people.