Posted on: September 17, 2021
Source: SFYIMBY, Andrew Nelson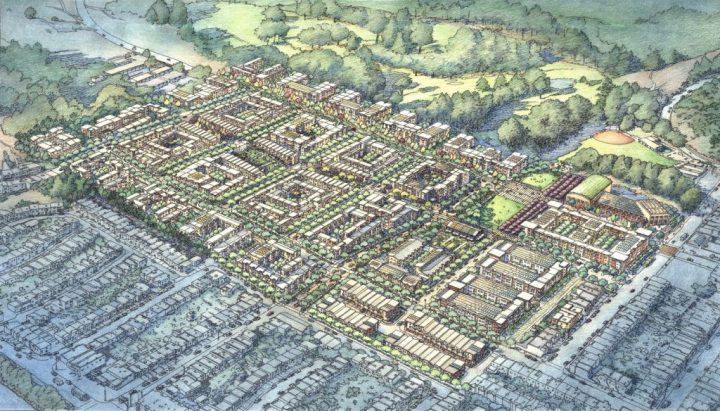 Demolition permits have been filed for twelve buildings along Sunnydale Avenue as part of Blocks One through Four in the Sunnydale HOPE SF redevelopment plan. The Sunnydale community was originally built during World War Two but has since become one of San Francisco's most acutely neglected public housing neighborhoods. Mercy Housing and Related California are jointly responsible for the redevelopment that will offer replacement housing on top of nearly 1,000 new apartments.
The addresses for which demolition permits have been filed are listed below. A total of 86 residences will be torn down. Residents will be offered replacement housing.
1500 Sunnydale Avenue
1501 Sunnydale Avenue
1519 Sunnydale Avenue
1520 Sunnydale Avenue
1530 Sunnydale Avenue
1540 Sunnydale Avenue
1551 Sunnydale Avenue
1569 Sunnydale Avenue
1600 Sunnydale Avenue
1601 Sunnydale Avenue
1616 Sunnydale Avenue
1633 Sunnydale Avenue
1,770 new apartments will be incrementally built across the 50-acre site. 775 will be replacement housing for existing residents, and the remaining 995 units will be affordable and market-rate. Also on site, 30,000 square feet of retail, the city's first recreation center in decades a Boys & Girls Club, and early childhood education center.
While the recent demolition permits clear the way for at least four blocks, construction has already begun on the residential stacked flats at Block Six. Facade installation started in February of this year, on schedule for the 167-unit building to open by Fall of this year. Construction has also finished for the 55-unit Sunnydale Parcel Q, designed by YA Studios and HKIT Architects.
The development borders John McLaren Park, an expansive 312-acre park. It is the third-largest in the city but with noticeably less foot traffic given its distance from the urban core. Sunnydale HOPE SF is planning to use this existing social infrastructure by providing more housing and community space immediately beside it.
Van Meter Williams Pollack, or VMWP Architects, is the master plan and residential building architect, and KPFF Consulting Engineers is the master civil engineer.
Describing the composition of the future mini-neighborhood, VMWP states that "principles of sustainable 'green' development for the neighborhood and greater community will be integral to this transformation into a mix of uses typical of other San Francisco neighborhoods, including housing, services, community facilities, open space, and neighborhood-serving retail."
Posted in: News