Posted on: June 9, 2023
A proposal for a five-story apartment building was approved by the San Carlos Planning Commission Wednesday, paving the way for the creation of 33 new affordable homes built in partnership by local housing nonprofits HIP Housing and Eden Housing.
"We are very much committed to this project and see the possibility and have been for a long time," HIP Housing Executive Director Kate Comfort Harr said during Wednesday's Planning Commission meeting.
Cherry Street Commons, the name of the limited partnership between HIP Housing and Eden Housing, plans to build 33 units on a 17,000-square-foot site owned by the city. The site is made up of three parcels, one at 1244 Cherry St., consisting of a six-unit affording housing structure; the second at 1232 Cherry St., which consists of a vacant office; and a third made up by an alley and three parking stalls.
Once complete, the apartment building will consist of 15 one-bedroom, nine two-bedroom and nine three-bedroom homes, a community room equipped with a kitchen and flex space, shared deck, meeting room and an outdoor courtyard with a barbecue area and play area catered toward children ages 2 to 12.
Units will be listed at moderate-, low- and extremely-low income affordability levels with rents ranging from about $1,000 to $2,900 a month depending on the potential tenant's income level. For a one-person household, a person who makes between $39,030 and $78,060 could qualify for a unit while a four-person household earning between $55,740 and $111,480 would qualify, said Andrea Osgood, chief of Real Estate Development for Eden Housing, an offering commissioners lauded.
"I think the city will be very proud to have it as part of the community when it's complete for what it stands for, creating housing for those who want to be a part of our community and can't today," commission Chair Jim Iacaponi said.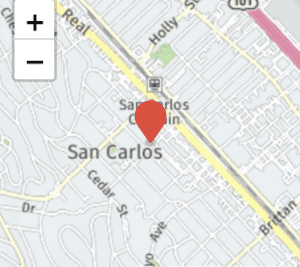 The city used eminent domain and paid $3.075 million to acquire the parcel at 1232 Cherry St. The onsite office structure and the remaining housing units will have to be demolished to make way for the new project, which has yet to be proposed or approved.
Twelve residents currently live in the existing apartment building. Comfort Harr assured the commission that no residents would be displaced by the new development. In addition to offering current tenants relocation assistance, those who meet income criteria will be given priority when the new homes are complete and welcomed back.
The three commissioners present during Wednesday's meeting, Iacaponi, Vice Chair Kristen Clements and Commissioner Ellen Garvey, lauded all aspects of the project from its Spanish-inspired design and walkability to downtown amenities to its mix of apartment sizes and affordability levels.
And the site's proximity to downtown and amenities helped alleviate what few concerns there were about potential impacts to parking. Only 21 stalls are proposed and will be distributed to residents through a raffle.
Osgood said trends indicate people are owning fewer cars and families will be "self-selecting" whether to move into the site. Planning Manager Lisa Porras said the city plans to study downtown parking that will present future solutions for parking issues.
"It's affordable family housing near downtown and that doesn't happen very often," Garvey said. "San Carlos really is the city of good living and this project I think really helps take us toward that goal."
Posted in: News