Posted on: June 15, 2023
Source: SF YIMBY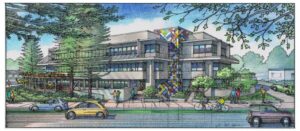 A new housing project is all set to break ground today at its project site at 3301 Kerner Boulevard in San Rafael. The project proposal includes the construction of a 100% permanent supportive housing complex. The project will convert a vacant office building on the site.
Eden Housing is the project developer. Van Meter Williams Pollack LLP is responsible for the designs.
The project site is a parcel spanning an area of 0.91 acres. It currently houses a three-story office building spanning an area of 24,018 square feet and includes a structured parking garage and surface parking lot. The adaptive reuse project will provide housing for individuals experiencing homelessness, the formerly unhoused and those suffering from mental illness. The project will provide 41 units. Onsite residential, supportive, and mental health services will also be provided.
The proposed vibrant and sustainable space will be developed across the street from the Marin Health and Wellness Campus. The units will be developed as a mix of 32 studios and 8 one-bedroom units, plus a two-bedroom manager's unit, storage spaces, a courtyard, community room, conference room, and offices for case managers and an on-site property manager. The residential floors include a laundry facility on the second floor and access to trash chutes on every floor. The patio courtyard will be redeveloped and a portion of the landscape will be replaced or new planting designed and coordinated with existing irrigation. A portion of the top level parking garage will be designed as an outdoor open space and gardening area.
The project is funded by the Project Homekey and California Housing Accelerator programs, and the County of Marin. Construction will kick-off, starting with groundbreaking today from 11:00 a.m. to 1 p.m. The estimated construction timeline has not been announced yet. The site is located near various options for public transportation, shopping, medical services, and recreation.
Read the full article here.
Posted in: News