Posted on: May 17, 2019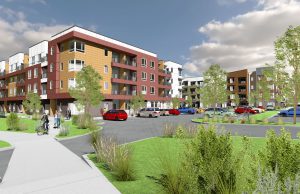 Jeos Oreamuno writes the lead article, Generational Bond: Affordable Senior Housing Helping Families Grow Old Together, in the American Planning Association Colorado Chapter's May 2019 newsletter, Planning Matters.
The Adams County housing authority, Unison Housing Partners, applies progressive housing solutions in the framing of multigenerational housing models. Crossing Pointe, an affordable senior/family housing project designed by Van Meter Williams Pollack, is Unison's ambitious housing concept under development in Thornton, Colorado. Conveniently located near retail stores, supermarket, commuter rail station, and the new Thornton Active Adult Center scheduled to open in 2020, Crossing Pointe provides healthy living opportunities for seniors who earn 30-60 percent of the area median income. In collaboration, Unison Housing Partners and Van Meter Williams Pollack envision a vibrant, thriving community that fosters organic interactions around the development.
Read Jeos' full article here and the full publication here.
Posted in: News