Posted on: February 7, 2020
Journey's End Redevelopment Plan Unveiled
Source: News Of The North Bay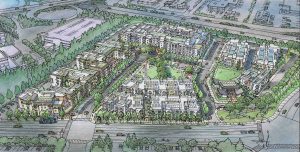 Members of the public got their first, early look Tuesday at a proposal that would tranform the Santa Rosa site of the former Journey's End mobile home park into a bustling 532 unit development.
The plan was unveiled at a pre-application neighborhood meeting, and envisions 162 affordable senior housing units and 370 market rate units all set into the 13 acre site along Mendocino Avenue.
Santa Rosa's Burbank Housing is helping to drive the project forward, including work on the affordable housing units.  The number of senior housing units envisioned would equal the number of housing units lost when the Journeys End mobile home village burned during the Tubbs Fire back in October of 2017.
The project is still in the early stages, and must undergo a formal application process, design and environmental reviews, and public hearings.  All of that could take up to a year, with a preliminary timeline for construction sometime in 2021.
Still, with its mix of affordable and market rate housing, sustainability and transit-oriented focus, the development is widely viewed as the type of project that is needed regionally, and that could receive favorable reviews by city officials and the public.
The project falls within Santa Rosa's Mendocino Avenue Priority Development Area, and Burbank Housing's Efren Carrillo told News of the North Bay the proposed project brings together the mix of housing and sustainable design that the region needs.
Read the full article here.
Posted in: News