Posted on: November 26, 2019
By Lauren Daley
"What makes a resident truly happy boils down to how someone makes them feel, not a building, unit, or space, but a positive connection to another person."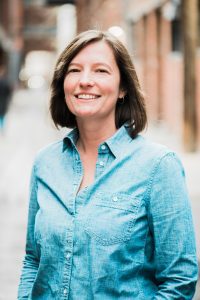 When I transferred from VMWP's San Francisco office to VMWP's Denver office back in 2016, I was given the opportunity to be the Project Architect on the affordable housing Kuhlman Building Project, now called Sienna on Sloan's Lake. The Kuhlman Building is the old hospital dormitory and auditorium built for the nuns that served the St. Anthony's Hospital Complex at Sloan's Lake in west Denver. It was originally constructed in the early 1900's and later converted to office space. VMWP was hired by the developer Koelbel and Company to repurpose the Kuhlman Building into 49 affordable housing units and 6,300 sf of commercial space. We also designed a new public plaza and new adjacent commercial building whose construction ran in tandem with the main Kuhlman Building. What I remember most about the Kuhlman Building on my first visit prior to interior demo, besides the view to the city and mountains from the roof, was the 6th story common room remodel complete with brass bar. I imagined a lot of happy times where I stood, six stories up, at the corner of 16th and Perry, adjacent to Sloan's Lake.
I was the Project Architect, which meant that I oversaw the project from schematic design through construction, until residents moved in this past winter. Construction was executed well by Pinkard Construction, which was no easy task on this existing building with a lot of surprises. Koelbel and Company's exciting vision of combining affordable housing, with market rate townhomes, a public plaza, and restaurant space has created a place to be enjoyed by the residents on site as well as the larger community. As construction wraps up on the site and the tenants move into the commercial space, this place is going to be 'the spot' along the stroll around Sloan's Lake and the cycling route from west Denver to downtown.
On June 14, 2019, I swung by the Kuhlman Building to interview a resident and the property manager. The deep red brick building impressively popped against the clear bright sky, and as I walked around taking photos a neighbor stopped me to tell me he appreciated how beautiful the building looked. He admitted he doesn't like change and loved that this iconic building in the neighborhood was repurposed, rather than being torn down. So much of the lots in Sloan's Lake, once a solid working-class neighborhood, have been bought up and converted to above market rate condos. It's no wonder that our project is a grounding anchor to those that have lived through the dramatic changes happening in the neighborhood over the last couple of decades.
The resident of Sienna on Sloan's (the name given by the developer, Koelbel and Company), that I interviewed is named Marie Dalton. She was kind with a great welcoming personality. She was off to a doctor's appointment but seemed happy to take some time out of her busy day to offer her opinion about where she lives. I asked her to tell me her story, how she likes living at Sienna at Sloan's, and things she would change about the building. This is a summary of what she said:
…I've had some mental health issues that have made me rely on affordable housing. With the help of a case worker, I was able to get an apartment here at Sienna on Sloan's. I love the building and the neighborhood, and I wouldn't change anything. I like that I can walk to the grocery store and love walking around the lake. I like my unit and really like having a washer and dryer in the unit. The layout is great. I love that I can go to the roof deck and watch the sunset. I appreciate that the building is clean and smells good. A big reason of why I like living here is because of Sheila (the property manager). When I have problems or complaints, she takes care of them. I feel important here, because of her…
Which reminded me that the resident experience is largely out of my control. VMWP always designs great buildings that connect to the urban fabric, units that maximize efficiency and user experience, and common spaces that drive interaction. But what makes a resident truly happy boils down to how someone makes them feel, not a building, unit, or space, but a positive connection to another person. And this leads me to the conversation I had with Sheila Singer. After Marie left Sheila smiled and looked at me and said, "She is why I do what I do."
We each talked about our stories and how we ended up working in affordable housing. Hers is a series of medical setbacks, chances taken by employers, and her standing up for what's right. Mine is seeking a job straight out of graduate school in a leading affordable housing firm and never looking back. We each agreed that we have a small part to play. But for people like Maire and others who are important, we will keep doing what we do.