Posted on: May 14, 2010
Low-Income Housing Project Opens in Pittsburg
PITTSBURG — A new housing project here has brought the city closer to complying with a mandate to add low-income homes stemming from a 2005 lawsuit settlement.
The 71-unit Los Medanos Village provides housing for 66 low-income individuals or families and five former foster youth. It features two playgrounds, picnic/barbecue areas, computer center, a community room and garden space.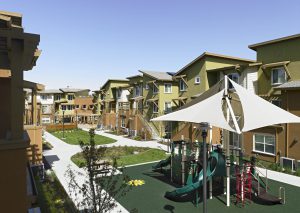 The $23.7 million construction cost was funded by several sources, including $6.45 million from Pittsburg's redevelopment agency, $1.5 million from Contra Costa County, $5.7 million from the state, and $8.5 million from Enterprise Community Partners.
Situated along the south side of Highway 4 and near the walkable Railroad Avenue overpass, Los Medanos Village is designed to promote public transportation use, said Linda Mackey, deputy director for the developer, Resources for Community Development.
This complex is part of what Pittsburg officials say has been a concerted effort, in the wake of the 2005 settlement, to increase affordable housing stock. The city has built new units and converted existing ones to the tune of 700 additional affordable homes in recent years, said Joe Sbranti, Pittsburg's city engineer and assistant city manager.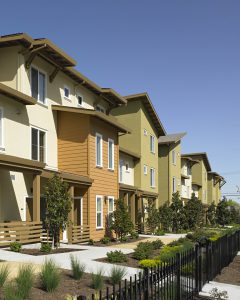 He called Los Medanos Village "a nice injection of new housing into an older area."
According to the settlement, Pittsburg must have 1,546 affordable units by 2014. Los Medanos Village brings its total to about 1,400, Sbranti said. A downtown senior housing project in the works, Sienna Court, will add another 110 units.
"We're well on our way to that number," Sbranti said.
The development's eco-friendly features — including a solar water heating system, solar electricity for common areas and green building materials — are expected to earn it favorable marks from a nonprofit group that rates green building, according to housing officials.
Sherece Bailey, who moved into a two-bedroom apartment with her 15-year-old son in February, said things such as free Internet, friendly neighbors and security features, including cameras on each building, make it a great complex. In addition, she's noticed a big drop in her PG&E bill because of the green features.
"I love it," Bailey said. "I don't plan on going nowhere no time soon."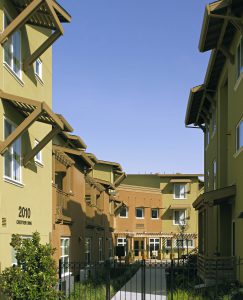 Rents at Los Medanos Village range from $300 a month for a one-bedroom apartment to $1,081 a month for a three-bedroom townhouse. Qualifying families must earn between 20 percent and 50 percent of the area median income (between $17,860 and $44,650).
Despite the recession that has forced rents down in some parts of the Bay Area, there are still many people here who cannot afford market rates, Mackey said.
"In this economy, even though the top ends of the rental range are (more affordable), there still is huge demand and need," she said.
Sbranti said Pittsburg ranks near the top among Contra Costa County cities in working to meet its affordable-housing goals.
"We're doing, I think, amazingly well if you compare us to the rest of the county," he said.
The lawsuit, filed in 2004 by Rev. Gregory Osorio and the Pittsburg affiliate of the community group ACORN, claimed that the city's 2003 housing plan favored high-end homes and restricted a broad range of housing options.
*************************
Posted: 05/14/2010 07:35:08 PM PDT
Updated: 05/14/2010 07:35:09 PM PDT
*************************
Marc Fox
Assistant City Manager – Internal Services
City of Pittsburg
Office: (925) 252-4876
Facsimile: (925) 252-4138
Email: mfox@ci.pittsburg.ca.us
Posted in: News