Posted on: February 20, 2023
Source: Mountain View Voice; Author: Malea Martin;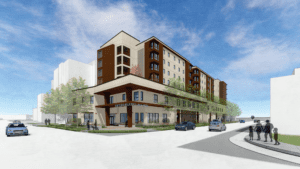 The Mountain View City Council voted unanimously Tuesday to allocate more than $18 million to two all-affordable housing projects that will together add nearly 150 new units for low income residents, including some units reserved for those who are homeless or at risk of being homeless.
The proposed projects, located at 1012 Linda Vista Avenue and 96 W. El Camino Real, both received the funding through the city's Notice of Funding Availability (NOFA) process, which since 2014 has appropriated about $117 million. The cash is generated through fees collected on development, which is routed into paying for affordable housing.
Affordable housing developer Alta Housing, based in Palo Alto, is proposing a seven-story development at 1012 Linda Vista Avenue. Of the units, 69 will be available to households earning up to 60% of the area median income (AMI), plus one manager unit. The proposed unit mix is 16 studios, 15 one-bedroom, 20 two-bedroom, and 19 three-bedroom apartments. Many of the units will be dedicated to housing those facing homelessness.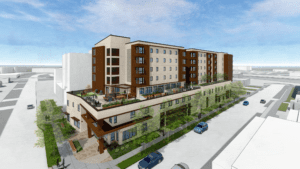 "Twenty-five percent of these units will be set aside for rapid rehousing, and another 25% will be reserved for extremely low-income households earning up to 30% of the area median income," Talavera added. The median income for a family of four in Santa Clara County is $168,500.
Because of the affordability the proposed project offers, it qualifies for a streamlined approval process under state law, so it will not return to the City Council for additional approvals, Talavera said.
In addition to a city contribution of $10 million, the project is expected to receive about $9 million from Santa Clara County's Measure A bond, a 2016 voter-approved measure to fund the development of affordable housing. The extra money pitched in by the city ensures Mountain View will retain ownership of the property.
"Given that the city contribution is anticipated to be larger than that of the county, the city will be the eventual owner of the site and will then ground lease it back to the developer," Talavera said.
Similarly, the project proposed at 96 W. El Camino Real is 100% affordable, qualifies for a streamlined approval process and will allow the city to eventually own the land.
Danco Communities, the Arcata-based affordable housing developer pursuing the project, is proposing to build 78 affordable units, plus one manager unit, where El Camino Real meets Montgomery Street. The project would have five studios, 32 one-bedrooms, 21 two-bedrooms and 21 three-bedrooms. The developer requested $8 million from the city.
The six-story complex will be affordable to households with incomes up to 60% of the area median income, with 20 units set aside for permanent supportive housing for households that earn 30% or less of the area median income. Again, under state law, the affordable units qualify the project for an express approval process.
"It will not be reviewed by the Development Review Committee, it will not be decided upon at any public hearing body and is not subject to the environmental review," Talavera said.
City staff added that the projects will include elements that the general public can access, like bike repair stations and a community kitchen.
"I'm just delighted (to) see that there is a healthy number of two- and three-bedroom apartments," Showalter said of the two projects. "So much of our affordable housing stock is only studios or one-bedrooms, so it's really nice to see some two-bedroom and three-bedroom, which of course will be better accommodation for families."
Affordable housing developers can apply for funding to build projects through the city's NOFA review process, which goes through a council subcommittee before coming to a full vote. In the case of these two projects, the committee supported the proposed funding allocation at a Feb. 6 meeting, followed by a vote to approve the recommendation at its Tuesday, Feb. 14 meeting.
"At this time, the city has approximately $39 million in housing funds available," said Senior Housing Officer Deanna Talavera at the Feb. 14 meeting. "Staff estimates sufficient funding is available for the current applications."
Read the full article here.
Posted in: News