Posted on: April 15, 2022
Housing Leadership Council hosts: Mythbusting Affordable Housing Costs Part 2
Van Meter Williams Pollack
Thursday, May 12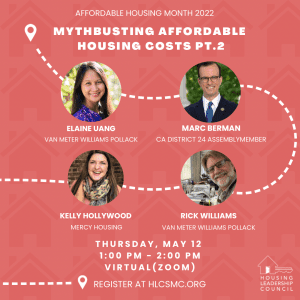 1:00 PM – 2:00 PM
Virtual (Zoom Meeting)
In the Bay Area, one unit of affordable housing can cost between half to three-quarters of a million dollars to build. Why does it cost so much? As discussed in 2019's Part 1, affordable housing projects require more sources of financing than market rate construction. Those financing sources impose more design & construction requirements, and increases building costs
3 years and one pandemic later, the need for affordable housing has increased, but the cost challenges have not disappeared. There are many other cost pressures affordable housing projects need to contend with. Mythbusting Affordable Housing Costs Part 2 unpacks myths for 3 buckets of affordable housing costs:
1) administrative & entitlement
2) building & construction
3) long term management
Join us on May 12, 2022 to hear Assemblymember Marc Berman, Architect Rick Williams and Project Developer Kelly Hollywood bust these affordable housing cost myths, and what is being done to alleviate some of those costs. Moderated by Elaine Uang.
Updates and to register: Housing Leadership Council
Posted in: News