Posted on: January 30, 2023
Source: Bisnow; Author: John Krukowski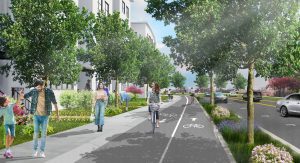 A rendering shows the proposed transformation of Ring Road to accommodate pedestrians, bikes and cars for the Global Villages development.
A new strategic plan to revitalize the nearly vacant Gwinnett Place Mall is being hailed as a potential economic boon to Georgia's fast-growing Gwinnett County. It is expected to bring hundreds of millions of dollars in private investment and as many as 3,800 new housing units, as well as green space and cultural amenities, to the area.
But despite the popularity of the Global Villages plan, it will also increase traffic in the already-busy community. Its authors concede that ensuring that people can "easily travel to, from and around the Global Villages is a major goal" if the redevelopment is to succeed.
At complete build-out, the development is projected to lead to nearly 30,000 additional local trips being made per day in the area. Most of those will be by car, and the Gwinnett Place Community Improvement District is looking at ways to keep traffic flowing and ensure that residents — whether they are driving, walking, bicycling or taking transit — arrive safely.
"At the end of the day, we want to make certain the mall site is not just an island unto itself," GPCID Executive Director Joe Allen said. "It needs infrastructure that seamlessly and conveniently connects it with the greater community."
In partnership with the Gwinnett County Department of Transportation and the joint Georgia and Gwinnett DOT I-85 corridor study team, GPCID released the Gwinnett Place Area Mobility and Traffic Study. The document proposes an ambitious slate of improvement projects based on input from engineering experts and community members.
It outlines more than 30 projects totaling nearly $117M, ranging from sidewalk improvements to upgrades to major intersections, roads and bridges. Allen said that local policymakers are unlikely to agree to fund 100% of the projects with revenue from the county's special-purpose local-option sales tax, known as SPLOST. But the exercise will help Gwinnett County set transportation priorities for years to come.
"We want to make certain that the infrastructure fully supports the future potential redevelopment of the area," Allen said. "The goals are to improve our infrastructure and safety and introduce more options for mobility."
As in suburban communities across the country, residents of Gwinnett County will likely continue to depend on their cars to get to work or shop. For that reason, major improvements are proposed for heavily trafficked arteries such as the I-85 corridor that bisects the county, improving motorists' access to the Gwinnett Place site.
High priorities include lane, interchange and bridge improvements to busy Pleasant Hill Road, which averages 60,000 vehicles a day. This road also intersects with I-85 and Satellite Boulevard, another busy thoroughfare that partially rings the mall site.
Improving drivers' experience is not the only priority of the mobility and traffic study, however. The Global Villages plan calls for considerable green space and trails, and Allen said that improved pedestrian options were one of the priorities GPCID has heard from residents.
"Our goal is to make Gwinnett Place more walkable, and we have to find safe and efficient ways to get people across these roadways," he said. "We'll still be very car-centric for the foreseeable future, but we're trying to plant the seeds for improved walkability here."
The mobility and traffic study proposes pedestrian overpasses for the area's major roads as well as extensive improvements to walkways. Thanks to its partnership with Gwinnett County, GPCID already has played a role in bringing more than 17 miles of sidewalks to the area since it was formed in 2005, Allen estimated.
But what it proposes in its traffic study is the result of next-generation thinking that prioritizes people's feet as highly as their cars.
"We're evolving away from traditional sidewalks and more to multi-use trails, pathways and complete streets that account for pedestrians," he said. "For instance, the mall revitalization plan proposes a Ring Road trail that wraps around the Global Villages for about a mile and a quarter. We want to transform that into a complete street where all modes of transportation — vehicles, transit, bicyclists and pedestrians — can coexist in harmony."
Following the release of the mobility and traffic study in November, Allen has been meeting with stakeholders, including the Gwinnett County SPLOST Citizens Project Selection Committee, to lobby for the report's highest-priority projects.
"Everything we're doing is to support redevelopment in the Gwinnett Place area, at the mall site but also at other catalytic redevelopment locations throughout our district," Allen said. "As this area becomes more dense, we also want to promote walkability and give people added options to reach their favorite restaurants, stores and more beyond sole reliance on their cars."
This article was produced in collaboration between Gwinnett Place Community Investment District and Studio B. Bisnow news staff was not involved in the production of this content.
Studio B is Bisnow's in-house content and design studio. To learn more about how Studio B can help your team, reach out to studio@bisnow.com.
Contact John Krukowski at john.krukowski@bisnow.com
Read the full article here.
Posted in: News