Posted on: September 17, 2021
Source: Atlanta Business Journal , Grace Donnelly
The years-long dream of transforming the former Gwinnett Place Mall into a modern retail center and transit hub is one step closer to reality.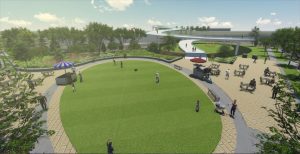 The Gwinnett Place Community Improvement District (CID) selected planning firm Vanasse Hangen Brustlin, Inc.(VHB) to lead the revitalization strategy and craft a master plan for the site, which has seen decades of decline.
The redevelopment of Gwinnett Place reflects a trend of mall owners across the country reinvesting in or reimagining their retail spaces. It also comes as Gwinnett braces for massive population growth. The county is projected to reach 1.5 million residents by 2040, surpassing Fulton County.
Gwinnett County residents, like many other suburban communities, want alternatives to spending long commutes in their cars, said Joe Allen executive director of the Gwinnett Place CID.
Twelve companies across the country responded to a request for proposals to create the master plan for the mall, Allen said.
The Gwinnett Place CID worked with the ARC and Gwinnett County government officials to solicit and evaluate proposals to work on the redevelopment strategy and unanimously selected VHB to lead a team of consultants that includes Atlas Technical Consultants LLC, Perez Planning + Design LLC, Van Meter Williams Pollack LLP, Purpose Possible LLC, Retail Development Strategies LLC, and the Center for Pan Asian Community Services.
Read the full article on biz journals, here .
Posted in: News