Posted on: January 12, 2023
Source: San Francisco Business Times; Author: Sarah Klearman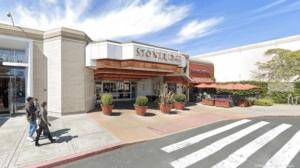 Pleasanton is moving to rezone 18 acres within the 75-acre Stoneridge Mall, pictured here, for housing.
Under state pressure to build more housing, the city of Pleasanton is moving to allow upward of 1,000 homes at city's flagship retail center.
The city is expected to refine and ultimately approve the rezoning of an 18-acre portion of the 1.3 million-square-foot Stoneridge Mall, a 1980s-era shopping center that sits on 75 acres a half-mile from the West Dublin/Pleasanton BART stop.
The city, alongside a trio of land owners, is working to decide exactly how many homes should be permitted on those 18 acres. Property owners Simon Property Group (NYSE: SPG), Macy's and 300 Venture Group, which together own nearly 90% of the land at Stoneridge, have said they'd like to see as many as 80 homes allowed per acre. City staff have recommended capping maximum residential densities at 65 units per acre.
Those maximums do not include additional density that could be secured through the state density bonus law, which allows developers to trade on-site affordable homes for up to 50% more density than is allowed by local zoning codes. Using density bonus law, the site could host as many as 1,755 homes zoned for up to 65 units per acre; at 80 units per acre, it could yield as many as 2,160.
The Planning Commission is expected to make a recommendation regarding residential densities to Pleasanton City Council at its Wednesday hearing; Pleasanton City Council is expected to review and approve the rezoning by the end of this month, per city documents.
Pleasanton has eyed Stoneridge, which sits a fourth vacant today, for redevelopment before. About 10 acres were rezoned to allow for up to 400 units in 2012 as part of a previous Housing Element cycle — an eight-year term during which time local governments in California must receive state approval for their plans to accommodate state-allocated housing production quotas.
A bevy of new state laws passed over the last five years will force jurisdictions in the Bay Area, which will enter into a new housing element cycle Jan. 31, to both accommodate higher housing quotas and take those assignments more seriously than in previous cycles. That dynamic has pushed cities like Pleasanton to expedite plans to redevelop underutilized sites like Stoneridge into housing. City documents show Pleasanton expects the site to host at least 15% of the 5,965 new homes it was assigned for the 2023-2031 cycle.
Property owners could make quick work of the site once rezoning is completed. Simon Property Group, which owns roughly 60% of the 75 acres that make up Stoneridge, is in the process of seeking entitlements for a 360-unit residential project on a portion of the 10 acres rezoned in 2012. That project, alongside any subsequent development proposed for the rest of the 10 acres, will rise in addition to units proposed for the 18 acres currently up for rezoning.
Posted in: News