Posted on: December 3, 2020
Source: SF YIMBY, Andrew Nelson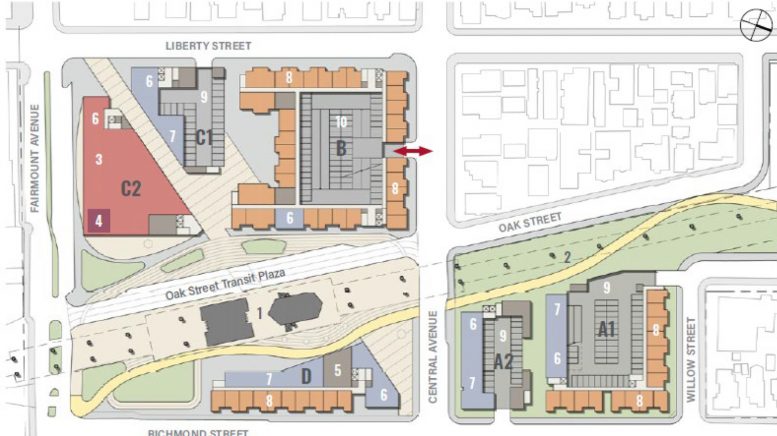 El Cerrito Plaza Station development plane option 1, drawing courtesy BART
BART has announced that they have picked two developers to form a joint venture for 780 new residences around the El Cerrito Plaza BART Station, with 49% units as affordable, and a public library. Related California and Holliday Development were chosen. The joint venture now must negotiate the terms of agreement with BART to start the two-to-three-year process of producing a development concept.
The two firms were picked for their success at other transit-oriented developments and demonstrated success with community engagement. Of the 780 units, 37% will target incomes below and up to 80% Area Median Income (AMI), with another 12% for residents making 120% AMI.
The design will be co-led by Pyatok and VMWP Architects, with Einwiller Kuehl as the landscape architect.
Construction is expected to rise to an 85-foot height limit. Beyond these, details are scarce. The project is still early in the pre-construction phase. A public library is also a potential addition on-site. The social infrastructure is anticipated to yield around 21,000 square feet.
Factory OS is tasked with the construction. The firm is known for its prefabricated modular housing design, a popular process praised for its speed and cost-efficiency. Factory OS has partnered with Holliday in the past, including the 223-unit Mayfair block replacing parking at the El Cerrito Del Norte BART Station, one stop away from El Cerrito Plaza.
Construction will replace three of four existing parcels owned by BART. The 8.3 acres holds 740 parking spaces in its existing condition. While details have not been finalized, BART hopes to retain 250 vehicle lots on site. They are also hoping to avoid a costly parking garage, which costs BART on average between $60,000 and $80,000 per space. The station currently received 38% of its ridership from pedestrians, 19% of drop-offs, 9% from cycling or other transit, and the remaining 34% from drivers.
The joint venture between Related and Holliday will have them working on the development concept for two years, with an option to extend for a third year. Satellite Affordable Housing Associates (SAHA) will assist as co-developer. According to BART, Windflower and MidPen Housing were second picks. They may assume joint-developers' responsibility if the partnership with BART, Related, and Holliday is withdrawn.
From the transit organization's press release, "The project will be aligned with the City of El Cerrito's San Pablo Avenue Specific Plan Update (ongoing), El Cerrito's Strategic and Economic Development Action Plans, and BART's Transit-Oriented Development related policies." A total of 1,300 units are already in the pipeline as part of El Cerrito's 2014 San Pablo Avenue Specific Plan, while BART aims to help build 20,000 houses in the Bay Area by 2040. With legislative and public support, this once-lofty goal appears reachable. Especially when skyscraper projects like at West Oakland BART get approval, as covered by SFYIMBY.
An estimated completion date for the El Cerrito Plaza Station housing is not yet known.
Click here to read the full article.
Posted in: News