Posted on: September 29, 2020
San Francisco Development Offers More Than Housing
2020 MFE Award Winner, Affordable Housing, Merit: 1101 Connecticut
Source: Multifamily Executive
By Donna Kimura | Tuesday, September 29, 2020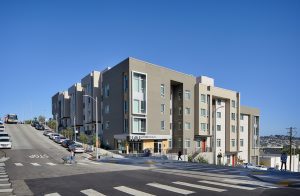 1101 Connecticut is more than the 72 affordable homes it provides low-income residents in San Francisco. While that alone is impressive, it seeks to do more.
It's the first building in the city's large-scale development effort to reverse intergenerational poverty at one of its oldest public housing sites. 1101 Connecticut sets the framework for a new vibrant mixed-income and mixed-use community without displacing public housing residents.
BRIDGE Housing, a leading nonprofit developer, was selected to lead the master plan redevelopment of Potrero Terrace and Annex. Originally built in 1941 and 1955, the properties are home to about 1,300 people.
Fifty-three apartments at 1101 Connecticut are reserved for families relocating from the Potrero public housing property, and 18 are set aside for low-income households earning up to 60% of the area median income. One unit is for an on-site property manager.
BRIDGE Housing worked closely with Potrero residents and the community on the new project. That collaboration led to the development having space for an array of services, including after-school programs and counseling offices geared toward the educational and economic success of residents.
Responding to the community's request for a healthy development, the project features photovoltaic on-site energy generation, solar thermal panels, and a 22,000-gallon stormwater collection cistern (100% of the stormwater is infiltrated or collected and treated on site). The development has been awarded LEED for Homes Midrise Platinum.
1101 Connecticut marks the completion of the first phase of the Rebuild Potrero master plan, which calls for rebuilding 619 units of distressed public housing and creating another 1,000 new homes with a range of affordability.