Posted on: June 14, 2023
The former office building at 3301 Kerner Blvd. in San Rafael is being converted to housing for homeless residents.
Source: Marin Independent Journal
By ADRIAN RODRIGUEZ | arodriguez@marinij.com | Marin Independent Journal
PUBLISHED: June 14, 2023 at 5:31 p.m. | UPDATED: June 15, 2023 at 6:21 a.m.
Construction has begun on a long-planned effort to convert a San Rafael office building into a supportive housing complex for formerly homeless residents.
Eden Housing, a nonprofit devel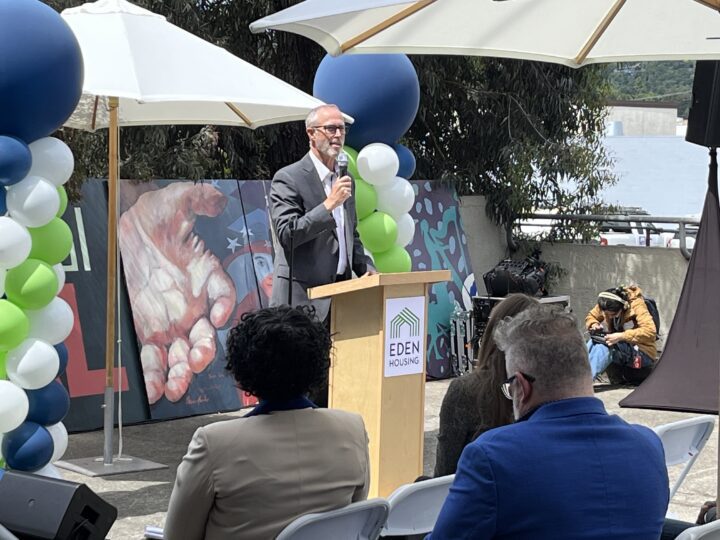 oper and property management company, kicked off construction last week on the $33 million project at 3301 Kerner Blvd. in the Canal neighborhood.
The plan was born out of the first wave of Project Homekey efforts in Marin County that launched near the start of the COVID-19 pandemic. The state program helps local governments convert underused hotels and commercial properties into housing for people who are homeless or are at risk of losing their housing.
"We really need in this county, and the state of California, long-term solutions for helping people move off the street to a place that is more permanent," said Linda Mandolini, chief executive officer and president of Eden Housing. "This is part of that continuum."
Marin County purchased the 24,018-square-foot commercial building for $7.2 million in December 2020. The county had secured nearly $6 million through Project Homekey to make the deal. San Rafael also contributed about $1.5 million toward the purchase.
At the time, homelessness was becoming more visible in the county. Although the county had approved an agreement to transfer the 3301 Kerner Blvd. property to Eden Housing in 2021, the site was used temporarily as an emergency shelter to address an immediate need.
County and city officials partnered with Homeward Bound of Marin, a Novato nonprofit that provides services for the homeless, to operate the shelter. Homeward Bound ran the emergency shelter until late 2022, when it opened Jonathan's Place, its four-story shelter and supportive housing complex on Mill Street, blocks away from the Kerner site. Jonathan's Place provides 40 shelter beds and 32 apartments for permanent supportive housing.
The Kerner Boulevard project will redesign the office site to include 32 studio apartments and eight one-bedroom apartments. It will also have a two-bedroom apartment for the site manager. The residences will be outfitted for accessibility and include a kitchen with an electric stove and range, Energy Star-rated appliances, heating and cooling.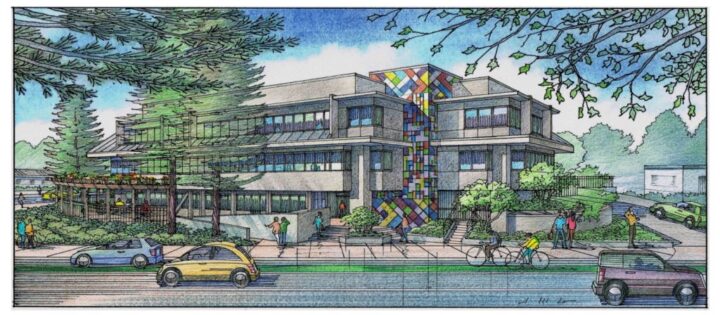 The project will include a community room, a conference room, bicycle storage, parking, a laundry room, a courtyard and outdoor gathering spaces.
It will also have offices for case managers. The program includes rental assistance, health and mental health care and other services for people who have experienced prolonged homelessness.
The complex is across the street from the Marin Health and Wellness Campus, where there are health, mental health and substance abuse services, said Todd Schirmer, a county health official.
"What's important here is that this is a home," Schirmer said. "This program is part of our 'housing first' model, so you house somebody, and then we offer services. All of those wrap-around services are provided."
Gary Naja-Riese, a county official on homelessness, said the "primary goal is assisting residents with retaining housing over a long period of time."
Marin officials praised the project for addressing a critical need to house the most vulnerable members of the community.
Assemblymember Damon Connolly, a former Marin County supervisor, said the solution to housing and homelessness is not a one-size-fits-all approach. He called this an "innovative development" that is a good fit for Marin County.
"Turning this building into permanent supportive housing with services will help get people off the streets, address adult mental health issues and will improve the health and well-being of our community," Connolly said.
San Rafael Mayor Kate Colin called Eden Housing "a leader in navigating the complex financials needed for affordable housing."
"This project is also one of the first adaptive reuses from an office building to a residential use," Colin said. "As the pandemic has lowered the demand for office space, this is a visionary way to develop additional housing units of all types."
The city contributed a $857,500 loan for the construction.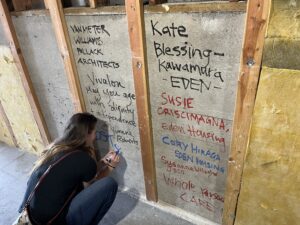 Eden Housing received $25.8 million from the California Housing Accelerator program through the state housing department as well as an $800,000 grant from the Marin Community Foundation, among other grants and loans.
Mandolini said she expects construction to wrap up in time for leasing to begin in summer 2024 and occupancy in early 2025.
"We're really grateful to the county, and the city and to all of our partners," Mandolini. "This is a great use of this property."
Posted in: News