Posted on: March 23, 2023
Source: SF YIMBY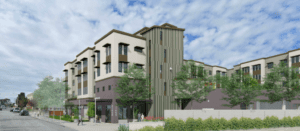 Timber Senior Housing via Eden Housing
A new residential project has been proposed for development at 37660 Timber Street in Newark. The project proposal includes the construction of a senior housing community offering 79 residential units for seniors. The project has been granted $21.7 million in funding for its construction.
Eden Housing is the project developer. Van Meter Williams Pollack is responsible for the designs. Financial partners include City of Newark and County of Alameda (Measure A1 Affordable Housing Fund).
The project site is a parcel spanning an area of one acre. Named Timber Senior Housing, the senior housing community will offer 79 one-bedroom units. The complex will feature a community center, computer lab, fitness center, and community gardens on the premises.
The project's funding is a part of Governor Newsom's recent commitment of more than $825 million to help expand the state's affordable housing stock and increase capacity for additional climate-smart infill housing.
The project participates in the city's vision of transforming the surrounding neighborhood from light industrial and warehouse space to a vibrant, walkable residential neighborhood. Approximately 9,550 homes will move forward statewide through the new streamlined application process, benefitting an estimated 187,500 people over the total lifetime of all projects combined.
The California Department of Housing and Community Development (HCD) last year combined state-funded multifamily housing programs to make them accessible to more communities, more equitable in serving the lowest-income Californians, and more targeted toward achieving better outcomes in health, climate, and household stability. California continues to advance its commitment to building 2.5 million homes — with one million affordable homes — by 2030, as outlined in the Statewide Housing Plan.
Read the full article here.
Posted in: News