Posted on: September 25, 2019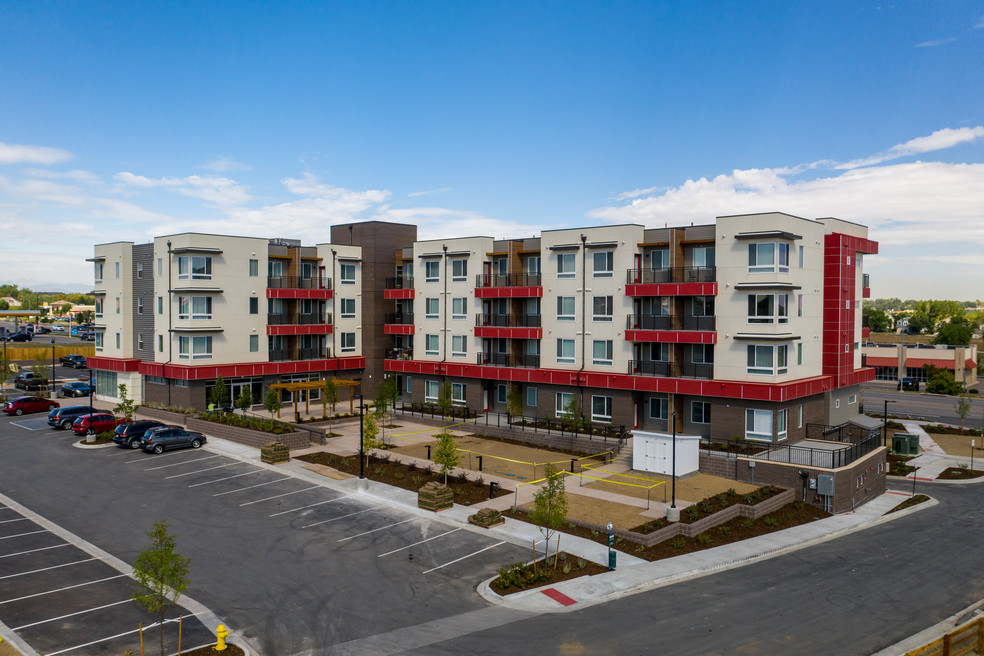 Crossing Pointe North meant as first part of multi-generational community
Scott Taylor
The ultimate goal for Thornton's new Crossing Pointe North housing development, according to Unison Housing Partners Executive Director Peter Lifari, is to build a multi-generational community.
"Ultimately, the concept for this is inter-generational living," Lifari said. "We were inspired by some projects out of the Midwest that really creates some nice synergies between generations. Maybe it's difficult for you to go get your groceries if you're aging in place. So maybe you can get some help from the people in the family section."
They're about halfway there now, with the opening of the senior portion of the development.
"We actually applied for the entire project in 2016, but it was too much at the time," Lifari said. "So we went back to the drawing board in 2017 and we're here today."
There's ample room to the south of the building for the larger phase two, which could begin in three years. The total project, with both phases, should cost between $46 million and $50 million.
The senior project is set for an October grand opening and ribbon cutting. The 64 unit building should be mostly full by then, according to Senior Housing Developer Sarah Vogl.
"We are 80 percent pre-leased as of Sept. 12," Vogl said. "Even as we speak, there could be more. And we will be done moving everyone in December."
Unison is the new name for Adams County Housing Authority which owns or manages 11 communities for 1,459 households in Adams County.
This latest building features one- and two-bedroom apartments for low-income senior residents earning between 30 and 60 percent of Denver Metro area Median Income, about $1,500 per month.
The project was supported by $1.2 million in financial incentives from the City of Thornton as well as tax credits from Colorado Housing and Finance Authority. With the tax credits, investors purchase them to reduce their own taxes, with the proceeds flowing to the project.
"That's how we reduced the rents," Lifari said. "The people buy the tax credits, investing in us and that's how we reduce our debt. So it's a partnership. Residents have to pay. In some public housing, your rent goes down if your income goes down. That's not the case here. They still have to pay rent."
Seniors earning $21,600 in annual income can qualify for rents of $506 for a one-bedroom unit, for example. Seniors earning $26,970 per year can qualify for $567 per month rents for a two-bedroom unit.
"It's not a perfect plan, but it is a very American solution to the problem," Lifari said.
Vogl said the building is not nursing home but a place for active seniors to age in place.
"There are no emergency services," Vogl said. "They don't have pull cords in their room, we don't have nurses on site. They can bring services in if they need them but they can age in place here, independently."
A Community Services Specialist will work on-site with residents to connect seniors with the wrap-around services they need to live active, independent lives.
"We know that people will want help figuring out what programs and services they can get, and it can be hard to figure that out," Vogl said. "So we are providing office space here for a specialist to help them figure that out."
The building has been designed with community in mind, she said. It includes a first-floor community room for residents as well as an indoor mailbox area.
"The experts we talked to told us that mail is such a big deal," she said. "Folks come down and congregate. It's a social place."
She's also pleased with building's location at 104th and Colorado Boulevard. The building's eastern views look out over Thornton's Grandview Ponds open space, with western views of the mountains.
"We really have people moving in every floor so far," she said. "Some have been very clear that they don't want to use an elevator, that the first floor is best for them. Others have said `Are you kidding? I want the views.' So they really are all over the building already."
It's also within walking distance of Thornton Station, the northernmost stop on the RTD's N-Line commuter rail that's due to open next year.
Source: Westminster Window
Posted in: News