Posted on: November 11, 2019
Colorado architect, Jeos Oreamuno, reflects on his military service during National Veterans
Month
Source: AIA Colorado
Colorado architect, Jeos Oreamuno, AIA began his career by virtually constructing complete cities within a matter of two weeks.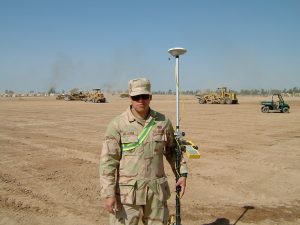 In early 2000, Oreamuno enlisted in the United States Air Force as an engineering specialist. After completing technical training at the U.S. Army Corps of Engineers School, Oreamuno was stationed in South Georgia and began working on a degree in cartography when the nation was shocked by one of the most tragic events in modern history.
"As soon as September 11 happened college was put on hold. I was a full-blown soldier for the next three years," remembered Oreamuno. "Within a few hours our lives changed, and my military service had become all too real."
During active military duty, Oreamuno was deployed twice during Operation Iraqi Freedom, serving six months in Ali Al Salem Air Base, Kuwait and four months in Balad Air Base, Iraq.
This was where he first discovered his passion for construction, urban design and architecture.
Constructing cities in two weeks
"Our unit was in charge of conducting site reconnaissance, grading and site development" said Oreamuno.
His squadron, equipped with design professionals, was tasked with designing and constructing entire military base camps within two weeks.
"Military-style construction isn't pretty, but it was highly functional," he explained. "There were a lot of civil engineering projects too. We designed roads and taxiways that met specific equipment loads, had positive drainage and were versatile."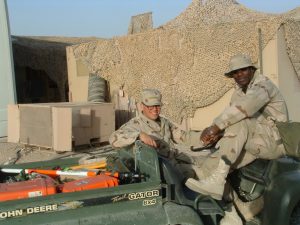 As Oreamuno explained it, an Air Force Base is essentially a small city, outfitted with an airport, hospital, operations facilities, housing and dining.
"It really shaped my interest in urban design," he said. "Each building type must be a set distance from one another. Basically, a bunch of radii form the perimeter of the base. Finally, infrastructure is laid out and plugs the base together."
By the time Oreamuno finished his active military service at the age of 23, he knew he was interested in design, but was concerned about a heavy college commitment.
Becoming an architect after military service
Ultimately, Oreamuno applied and was accepted to Pratt Institute's architecture school in Brooklyn, NY.
"It was a wonderful experience.  Professors broke down my military rigor and taught me to think of design from a different perspective," Oreamuno explained. "It opened my mind to the design process."
Just as Oreamuno graduated in 2009, he found himself in the middle of another national crisis: the recession.
"In the military we had a motto, 'adapt and overcome,'" he said.
Ever an optimist, Oreamuno moved to Colorado to be closer to his family. After working for a few years as a graphic designer, Oreamuno returned to college and earned a Master's in Urban Design from CU Denver. That's also where he met his wife of five years, who is also an architect in Denver.
Being a Minority in Architecture
Now a licensed architect, Oreamuno is no stranger to adversity and diversity. Latinos account for a small percentage of licensed architects in the state of Colorado, Gulf War veterans on the other hand, account for around 2% of the U.S. population.  "I see diversity as something to be proud of," said Oreamuno.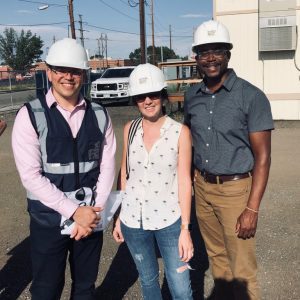 "You have to put yourself out there and challenge social norms." Oreamuno said it's important to inspire minority children at an early age and help them understand that a profession like architecture is attainable. "I believe the biggest challenge for children is perception. There are times I've had my doubts, but that has not stopped me from pressing forward," he said."I see diversity as something to be proud of," said Oreamuno.
Oreamuno said it's important to inspire minority children at an early age and help them understand that a profession like architecture is attainable.
Giving back to the profession and beyond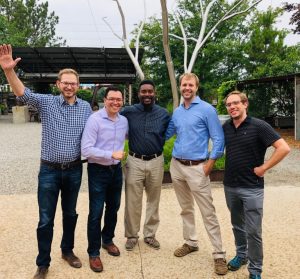 "As a veteran, you intrinsically feel like you should volunteer," said Oreamuno. This deeply-held 'Service Before Self' belief motivated him to lead the 2019 AIA Colorado Urban and Regional Design Knowledge Community's steering committee. This year, the knowledge community has bridged the gap amongst design professionals who share an interest in green infrastructure by hosting building tours and roundtables.
Oreamuno believes that looking at cities broadly, and at different scales, helps architects better understand their work and how their buildings fit into a city. For this reason, one of his biggest concerns related to architecture in Colorado is "nimbyism".
"A lot of pushback seems to be about densification and multi-family housing," Oreamuno offered. "It has more to do with massing, streetscape and how city blocks blend to create livable communities."
One of the biggest joys of his career has been using his talents as an architect to give back to fellow vets. He recently worked on an affordable housing project in the county of San Mateo, CA which reserves 30 apartments for veterans in need of housing.
"The military instilled in me the idea of giving back," said Oreamuno. "We, as designers, are accountable for finding solutions that serve people."
It's this belief that inspires Oreamuno every day as an architect.
To learn more about National Veterans Month, click here.