Posted on: September 27, 2022
Mountain View's Luna Vista Apartments are the Business Journal's Structures Awards winner for affordable rate residential project.
Source: SVBJ
By Danny King – Contributor
Sep 27, 2022 Updated Sep 27, 2022, 8:55am PDT
Editor's note: Each year, the Silicon Valley Business Journal presents its Structures Awards, which honor the best commercial real estate projects, deals and people in the region. Leading up to a special awards ceremony and celebration this Thursday, the SVBJ will announce a group of this year's winners each day. For tickets to the event at the Signia by Hilton in San Jose, click here.
Luna Vista Apartments has a great location, a focus on Mountain View residents and workers, and an art-infused design.
Affordable-Rate Housing: Luna Vista Apartments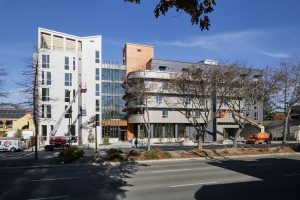 Mountain View's Luna Vista Apartments does more than just helping to address the local housing-shortage issue with its 70 affordably-priced studios. It also pays tribute to one contingent it's trying to help by prominently featuring artwork from adults with developmental disabilities.
"Having the sunshine through the colorful artwork during the day and cast images on the interior floors, and then reflect the images outside at night is very cool," said Sheryl Klein, chief operating officer of by Palo Alto-based nonprofit Alta Housing, the project's developer. "It was also a great way for the art to reflect the residents who are part of the community."
Completed last October, Luna Vista Apartments includes 55 studio apartments eligible for people who either live or work in Mountain View from households earning between 50% and 70% of the local median. Additionally, 15 units are reserved for adults with developmental disabilities.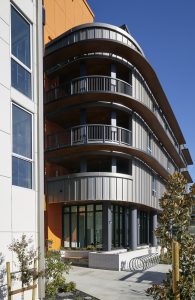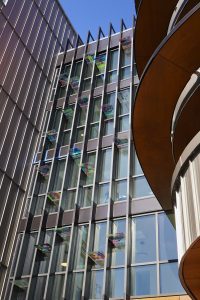 That means that, in a city where studio apartments on average rent for more than $2,700 a month, according to mid-September data from the residential rental site Zumper, Luna Vista's studios are significantly more affordable; apartments average about $1,400 a month. The project was fully occupied within four months of its completion and it has about 120 people on the waiting list.
With a prime El Camino Real location, about a half-mile walk from downtown Mountain View, the complex gives its residents easy access to Caltrain and VTA light rail stations along with other amenities.
Additionally, the 48,000-square-foot building, which includes a rooftop deck and public-gathering areas on each of its five floors, pays an homage of sorts to El Camino Real's roadside-architecture history, as the building includes mid-Century-modern-inspired color pops and curved decks.
Key Facts:
Location: 950 W. El Camino Real, Mountain View
Size: Five-story, 48,000-square-foot building with 70 apartments
Cost: $49.4 millionStatus: Started July 2020, completed October 2021
Amenities: A rooftop deck; common spaces on every floor; 64 pieces of artwork from adults with developmental disabilities that were photographed and printed on the entryway's glass panels
Background: Developed on an old Taco Bell site, the complex received funding and tax credits from the City of Mountain View, Housing Trust of Silicon Valley, Wells Fargo, the California Community Reinvestment Corporation and the California State Department of Housing.
Tidbit: Part of the Taco Bell sign from the restaurant previously at the site was installed on an exterior deck.
Source: SVBJ