Posted on: November 13, 2019
"When America's veterans return home, they continue to serve our country in new ways, bringing to the community the tremendous skills and character that their time in the service fostered… We owe them a debt of honor and it is our moral obligation to ensure they receive our support for as long as they live as proud veterans."
Source: Inquirer
By: Cherie M. Querol Moreno – @inquirerdotnet
COLMA, California – Veterans' advocates, Filipino World War II veterans and other ex-U.S. soldiers in foreign wars are elated to hear of a new resource for those who have dedicated their lives to serving and protecting the United States.
Sixty-six soldiers can live in dignity, comfort and stability in what is Colma Veterans Village, an accessible community for veterans with low income in a brand-new building ensconced among eucalyptus trees and near bus stops, a BART station, restaurants and shopping centers.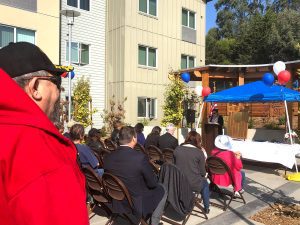 Inaugurated last month after opening in August, the facility hosted its first commemoration of Veterans' Day Nov. 8, the weekend prior to the federal holiday. The three-story building managed by national nonprofit Mercy Housing encourages socialization with a variety of communal spaces including a community garden.
A special feature is the pump building renovated into a social hall to promote fellowship.
Bataan Legacy Historical Society executive director Cecilia Gaerlan, who was unaware of the housing, expressed excitement when informed of it by INQUIRER.net.
"This is great news for veterans! They have made so much sacrifices for our country and we, who enjoy the freedom that they fought for, should support them especially during their time of need," Gaerlan exclaimed.
She said further: "All veterans, regardless of the war they fought in, must be appreciated and looked after, especially those in the twilight of their years like our WWII Filipino veterans," said the WWII veteran's daughter who led efforts to successfully include the contributions of Filipino soldiers in the revised history curriculum framework for California public schools, a first in the United States.
Gaerlan wondered about the application process, as did community advocate MC Canlas.
Canlas, who is working with HUD to reduce homelessness in the City and County of San Francisco, said Filipino WWII veterans may face challenges qualifying for said or similar housing because their service is categorized differently. For the same reason, advocates continue to fight for but are unable to secure equitable benefits for the Filipinos who fought with the United States Army Forces in the Far East in the 1940s.
Their advanced age is another barrier: Most WWII veterans are in their nineties.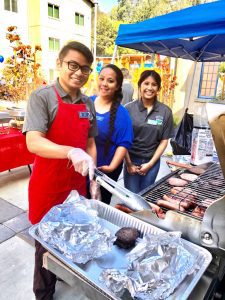 Current Veterans Village residents are between the ages of over 30 to past 60, formerly homeless, and mostly with service-related disabilities.
Some 20 of the facility's units are as yet unoccupied, but applications for the wait list closed in March.
"They want to do a good job of screening the applicants," noted Colma Mayor Joanne del Rosario, who presided over the event program. Priority was given to residents of San Mateo County with low income. "Rent is 30% of their income."
Commemoration day could not have been more picturesque with the bright autumn sun gilding the courtyard of 1670 Mission Road as veterans from the Army, Navy, Air Force and Marines gathered to be recognized. They served in various engagements – from Vietnam to Afghanistan. A lone female served a decade with Personnel in the Navy.
None was Filipino. For now.
"I don't want to cry, but I'm feeling so much emotion right now," Ron, a veteran and resident, shared his gratitude to have a safe place to call home.
"When America's veterans return home, they continue to serve our country in new ways, bringing to the community the tremendous skills and character that their time in the service fostered," Del Rosario said at the program recognizing the veterans. "We owe them a debt of honor and it is our moral obligation to ensure they receive our support for as long as they live as proud veterans."
Four of the five members of the City Council took turns describing the service and handing certificates to town residents who have served in the Unites States Armed Forces, whose names will be added to the town's Veterans Plaque.
Colma's leadership is understandably proud.
Brilliant Corners and the U.S. Department of Veterans Affairs provide wraparound services for residents who may avail themselves of health and wellness programs, recreational and education activities, referrals to primary, preventive and behavioral health care from providers onsite.
Some residents may have families live with them.
"Have you seen the apartments? I don't think I'd ever lived anywhere as grand as those," exclaimed Colma Vice Mayor John Irish Goodwin, a 27-year veteran law enforcement officer with the federal government.
Del Rosario was happy to have the housing opened during her term.
"Being a mom of a veteran myself, I couldn't be prouder to be able to do this," said the mother of Reg Sternberg, who served with the U.S. Navy. "There is a saying here in town — that it's great to be alive in Colma — and we sincerely hope that to be true for all of you as you embark on a new chapter of your lives and many more new beginnings."
She acknowledged Mercy Housing resident services manager Susan Canavan and coordinator Eric Duncan for seeing to residents' needs. Funding from Craig Newmark Philanthropies helped purchase furniture and household supplies, and Mercy Housing, a nonprofit company (Employer ID 94-3081666) welcomes donations for basic necessities.
Check donations may be deductible and mailed to Veterans Village, 1670 Mission Road, Colma 94014. Other donations may be sent to Eric Duncan, Resident Services Coordinator at eric.duncan@mercyhousing.org or 415-218-7996.
Posted in: News