Posted on: August 19, 2021
VMWP is proud to a sponsor of Housing Colorado this year. Please come visit the VMWP table, join the workshop presented by Michael Kloefkorn, Brett Jacques, Chris Jedd from Denver Housing Authority, and Michael Levinson from Group 14, on "Four Projects, Four Paths to Tax-Credit Energy Compliance", or check out the Charette Program where Liz Murphy, Lauren Daley, and Brett Jacques will be working together with an interdisciplinary team of design, planning and development professionals as well as graduate students from the University of Colorado Denver College of Architecture and Planning to find affordable housing solutions for various sites around Colorado sponsored by the City of Aurora – Aurora, Denver Housing Authority – Denver, and Foothills Regional Housing – Westminster.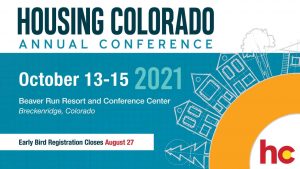 Join us at the Housing Colorado Conference! Let's work together to shape Colorado's future where all members of a community have access to safe, stable, and affordable housing.
Date: October 13 – 15, 2021
Location: Beaver Run Resort & Conference Center
To learn more: www.housingcolorado.org/page/annualconference
Posted in: News