Posted on: January 24, 2022
Van Meter Williams Pollack's Laura Shagalov, Pam Goode, and Elaine Uang will be presenting a session on "Case Studies of All-Electric Bay Area Midrise Affordable Housing Construction" at the Redwood Energy's 12th Zero Carbon Retreat! The retreat is on January 27th and 28th, 10am – 5 pm(PST).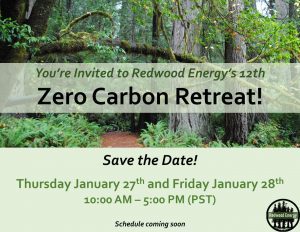 VMWP is committed to sustainable design. We integrate client needs into sustainable design solutions that address climate resilience, social and economic equity, to create beautiful, inspiring communities and places for people to live and thrive. We are honored to present with with other industry stalwarts on January 28th, at 10:30 am. Make sure to register, tune in and check out what we have been up to in All-Electric Affordable Housing!
More details and the information to register here: https://www.zneretreat.com/
Posted in: News