Posted on: June 13, 2019
Silicon Valley Business Journal: Fremont in focus: Housing rises in Warm Springs as developers wait for commercial contracts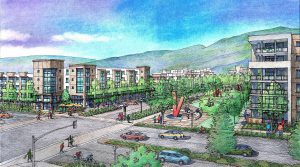 The first residents have moved into Fremont's Warm Springs Innovation District, though the view from their condos and townhomes — where prices start around $850,000 and rise to $1.5 million — isn't exactly the stuff of dreams.
Construction crews are everywhere. Only a few of the projected 4,000 housing units spread across the 840-acre site are finished. The offices and advanced manufacturing facilities that one day will employ 20,000 people are largely still on the drawing board.
Yet, stand on the platform of the Warm Springs BART Station located right in the middle of all this development, and the pure potential of this project sinks in. Rising up on all sides from what had been largely vacant land north of Tesla's electric car factory, is a 21st century village — one that city officials estimated would cost $7 billion to build, not including the $900 million BART expense.
"The plan … really is an employment-focus development plan, and while we knew we should add housing on a BART line, or at a BART station, we also believe very strongly that we should be adding jobs along transit, which has been tough to do in our region," said Christina Briggs, the city of Fremont's economic development director. "If you can't take the transit system to work, it doesn't help you a lot, right?"
A 'field of dreams'
Warm Springs is the single most ambitious development project in Fremont's relatively short 63-year life.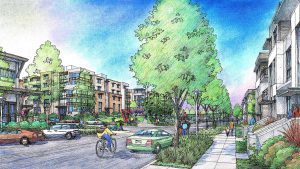 City and business leaders began to conceive of the district more than a decade ago. After a failed bid to lure the Oakland A's to the area and a scare that Union Pacific was going to put in a railyard north of Tesla, the city developed a community plan tailored to having people live and work in the area. That plan, approved in 2015, included five other master plans — one for Tesla's growth, one for an office and manufacturing campus by the Sobrato Organization, two for mixed-use developments by Lennar Corp. and Valley Oak Partners, and a residential development by Toll Brothers.
There's a certain "Field of Dreams" element to Warm Springs and the city's other big development project in what will be downtown — a conviction that by building out, thousands will live and work in Fremont. Estimates are that the number of jobs in Fremont will increase 14 percent between 2020 and 2040, while its population growth has already exceeded expectations — one model has Fremont's population at 239,610 in 2030, but current census figures from 2018 showed it was just 1,803 off that mark.
The city's business fans can cite a litany of reasons why the Bay Area's fourth-largest city by population is attractive — it's centrally located in the East Bay with easy access to Interstates 880 and 680, has two BART stations, has stops for both ACE and Amtrak Capitol Corridor trains, is a better value than the Peninsula, has more open space to build on, and has a city government that's pro-growth.
A destination for business One company that's banked on Fremont is UL, the safety certification company that has its headquarters in Illinois but has based its Bay Area presence in Fremont after having offices in San Jose and Santa Clara.
….
source and full article: Silicon Valley Business Journal
Posted in: News