Posted on: August 15, 2022
Source: RCD Newsletter Aug 2022
William Goodwin was one of first residents to move into Los Medanos Village in Pittsburg. His new home changed his family's future and set him a path toward community advocacy.
William was born and raised in Oakland, and he was living in Contra Costa County when an injury prevented him from working. For over 7 years, William moved between the houses of friends and families in search of an affordable home. In 2010, RCD opened Los Medanos Village, a 100% affordable housing community with 71 apartments for low-income families, and William was thrilled when his application was accepted.
"I was ready! Having all my documentation made all the difference because I got the last available apartment."
Once William was in stable and affordable housing, everything changed. With his young daughter, he started making plans. Soon they were thriving, and his thoughts turned to how he could give back.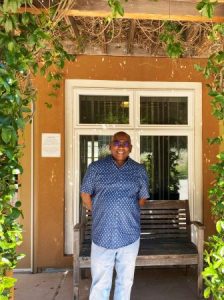 "I was always thinking about the other 2,300 people on that waitlist, and it just didn't sit right with me. So I started working and volunteering with Family Independence Initiative [now called UpTogether], an organization that helps accelerate the initiatives people are taking to rebuild their lives."
From there, William became involved with Hope Solutions' Resident Empowerment Program, which led him to A link to:East Bay Housing Organizations (EBHO). He joined their leadership development program and then graduated from A link to:Urban Habitat's Board and Commission Leadership Institute (BCLI). William now serves on a total of 5 boards, councils or committees – all through the lens of equity and changing the narrative.
"Whether I'm fighting for housing justice, social justice, or education – it's all aligned with building community and fighting for equity. But without affordable housing, none of this could have happened. I just feel blessed to be able to do all these things."
Now with his daughter heading off for college this fall, an opportunity he wasn't able to pursue, he reflects on their journey.
"I always think of the saying  (by Dr. Martin Luther King Jr.), 'if you cannot do great things, do small things in a great way.' I see my daughter watching me and I know it's forming her vision of what community should be and how we each have a part. I'm hoping that the great thing is actually her and what she will do."
Posted in: News