Posted on: March 22, 2012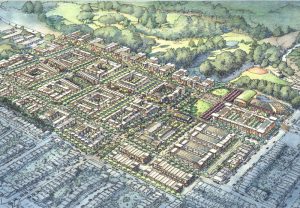 The Sunnydale and Potrero Plans have each recieved a U.S. Department of Housing and Urban Development (HUD) Choice Neighborhoods Planning Grant. San Francisco was the only city to be awarded two of the 17 grants issued nationwide. Van Meter Williams Pollack [VMWP] is the Master Plan Architect for both projects.
HUD's Choice Neighborhoods Initiative promotes a comprehensive approach to transforming distressed areas of concentrated poverty into viable and sustainable mixed-income neighborhoods. Building on the successes of HUD's HOPE VI Program, Choice Neighborhoods links housing improvements with necessary services for the people who live there – including schools, public transit and employment opportunities.
"San Francisco made a bold step by launching HOPE SF and I thank HUD for supporting us in this journey to transform our City's most distressed public housing sites into thriving communities,"
said Mayor Lee.