Posted on: June 3, 2022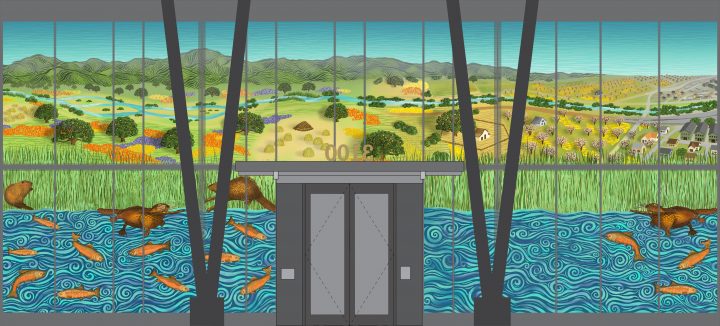 We have had the honor of collaborating with artist Linda Gass on the two story, art glass wall at Affirmed Housing's affordable housing project, Vitalia Apartments currently under construction in San Jose. The glass panels illustrate the evolution of Los Gatos Creek telling the story from the natural landscape thousands of years ago to present day creek restoration.
During the time of the Tamien, the landscape was dotted with large canopy oaks, purple lupine, orange poppies and yellow goldfields and the creek was home to abundant runs of steelhead trout and chinook salmon. During the Mexican land grant era, the site was bordered by nearby Rancho Rinconadade Los Gatos and Rancho San Juan Bautista and may have been left untended.
Flooding during 1866 naturally re-routed the creek to where it flows today, leaving a dry creek bed where nearby Dry Creek Road follows the original course. USGS aerial photography from 1948 shows the area covered in fruit orchards. Fruit canning polluted the creeks and bay, creating an unsupportive environment for fish and wildlife. The post-World War II population boom replaced orchards with housing and flood control projects were built to address creek flooding. Sewage pollution of the bay and creeks brought fish and wildlife extinctions. Modern day restoration efforts have improved water quality and the section of Los Gatos Creek near the site remains mostly intact. Chinook salmon and a family of beaver have been observed in the creek downstream near Campbell Park.
The art glass wall will be visible from South Bascom providing historical artwork for the community to enjoy.
Linda will be discussing her work at the DeYoung museum Sinton Lecture on Saturday, June 4th at 10am.
More about the event and to register: DeYoung Sinton Lecture