Posted on: May 15, 2023
Rick Williams and Camille Lo attended the groundbreaking for SAHA's Albany Family Housing at 755 Cleveland Avenue last week. This was an exceptionally celebratory day as the project is the first affordable housing development in Albany, California. Congratulations to SAHA and the entire development team.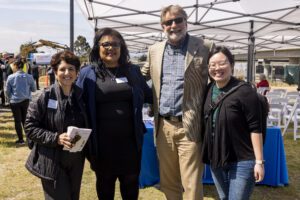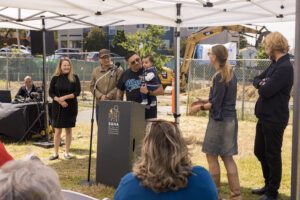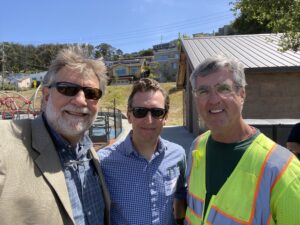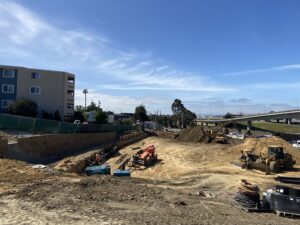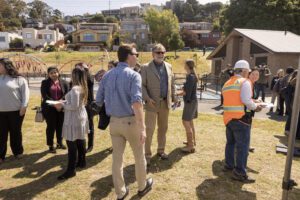 About Albany Family Housing | Albany, CA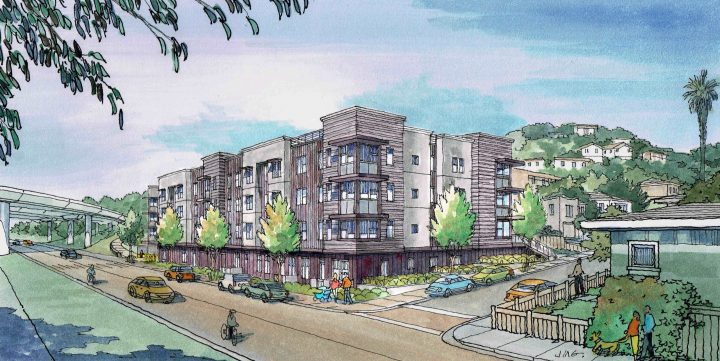 Housing Designed for Activation, Safety, and Comfort
Albany Family Housing is a 62-unit affordable apartment community proposed for a City of Albany-owned site at 755 Cleveland Avenue, formerly owned by Caltrans. The building is cut into the sloped site to effectively minimize the building massing and hide the parking podium below grade. The podium will be lined by three residences, the main entry lobby, management office and bike room on Cleveland Avenue. Care has been taken to locate access to the parking, trash, and utilities to prevent conflict. The building activates Washington Avenue with apartments at the courtyard level, corner residence, stepping planters, and secure resident entry to the podium courtyard from Washington Avenue.
The 62 units of affordable family housing will be an important community asset that will harmonize with the East Shore/Solano Hill neighborhood, will help activate and make Pierce Street park a safer place, will allow the future bike path to be implemented by the City, and will meet the City's sustainability goals and principles. This will be a housing community which is part of the neighborhood and wider community, a beneficial addition to the City of Albany, and a concrete example of Albany's commitment to housing for all income levels.
DESIGN FEATURES
 L-shaped building frames the courtyard and protects it from the traffic noise
Vertical rhythm of bays respond to the residential neighborhood
Shared outdoor recreation space for residents
Spacious community rooms
PROJECT DETAILS
Building size/acres: 93,249 sq. ft./1.13 acres
Density: 62 units, 55 du/ac
VMWP project page: https://www.vmwp.com/projects/cleveland-avenue/
VMWP Team: Rick Williams, Andrew Faulkner, Camille Lo, and Eric Sandoval
Posted in: News