Posted on: March 3, 2021
Denver passes $15 million project to turn former East Colfax strip club into affordable housing
Source: The Denver Gazette
Date: March 1,  2021
The Denver City Council unanimously passed a resolution Monday night allocating $15 million for the development of a new affordable housing project in the East Colfax neighborhood.
The project will construct an 82-unit affordable multifamily apartment complex at 8315 E. Colfax Ave., the former site of the neighborhood's last strip club PT's All Nude II, previously known as Saturdays.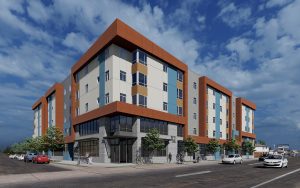 "I'm very excited about this," said Councilman Christopher Herndon, who represents District 8 where the project will be located. "This is something my district has been working on for years."
The strip club closed in 2017 after the property was purchased by the city for $1.3 million in an effort to revive the area. The club was infamously the site of a 2015 murder in which one patron fatally shot another for touching his shoulders.
Herndon said Monday that the project will help rid the location of the crimes happening there.
"I can't wait to be in that bulldozer to tear down Saturdays and PT's," Herndon said. "It's certainly making the East Colfax community safer."
The apartment complex is planned to be five stories, including a first floor that will house a 5,300-square-foot childcare and early education center.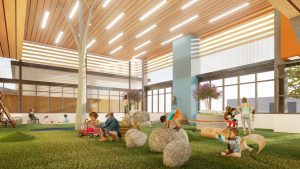 The apartment complex is limited to residents who make 70% or less than the area median income. In 2020, Denver's area median income was $70,000 for a single person and $100,000 for a family of four, according to city data.
Of the 82 units within the complex, 16 are reserved for those who made 30% AMI or less, 5 are for 40% AMI, 10 are for 50% AMI, 37 are for 60% AMI and 14 are for 70% AMI.
Prior to the vote, there was discussion about sending the resolution back to the Finance & Governance Committee for editing, as some alleged it wouldn't help those who are actually in need of affordable housing.
In response, Herndon pointed out that full-time workers who earn $15 per hour – $0.23 over Denver's minimum wage – still earn more than 30% AMI.
"The idea that we should send this back to committee because this doesn't help those that are truly affordable really didn't pay attention to the presentation," Herndon said.
"What they should've said is we need to do more of this throughout the city."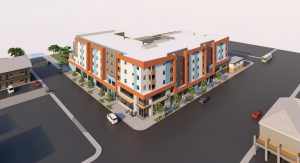 As the complex is aimed toward families, 22 of the units will have three bedrooms, 28 will have two bedrooms and two will have four bedrooms. The remaining 30 will be one-bedroom units.
The complex is also planned to include a courtyard, play area, community kitchen, game room, parking structure and space for after-school programs.
The $15 million that Denver intends to provide the program comes from the city's Multifamily Housing Revenue Bonds. The funding will be paid to Mercy Housing Mountain Plains, the nonprofit in charge of constructing the complex.
Posted in: News