Posted on: July 19, 2023
Breed asks University of California to consider opening downtown San Francisco campus
Source: SFGATE
San Francisco Mayor London Breed has asked the University of California system to consider opening a campus in the city's downtown.
During an appearance at a San Francisco Board of Supervisors meeting on Tuesday, Breed said she and City Attorney David Chiu had sent a joint letter to the University of California Board of Regents that same day to make the ask.
"We have space that is at the center of the city and the region that could attract students from all over the world," she told the board.
But unlike that out-there idea, a downtown college campus seems somewhat feasible. The UC system already has two universities situated in the Bay Area — including one in San Francisco itself — and administrators have shown a willingness to boost enrollment at their colleges by opening satellite campuses.
Just last year, the University of California, Los Angeles purchased vacant properties in the city's San Pedro neighborhood and in nearby Rancho Palos Verdes to accommodate more students. UCLA and other UC campuses have struggled to house students, which Breed pointed out in her letter to the system's board of regents.
"We believe that bringing students to a City that is both brimming with culture and serves as the region's economic powerhouse provides them with the opportunity to learn and live in a vibrant and world class metropolitan center, and could also serve to alleviate some of your critical student housing shortfalls at both UC Berkeley and UC San Francisco," Breed wrote in the letter, which was reviewed by SFGATE.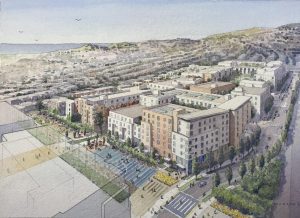 Breed also announced at Tuesday's meeting that she had sent letters to the city administrator, the San Francisco Unified School District and City College of San Francisco asking them to figure out what can be done with vacant space owned by those agencies.
She said the city can "lead on recovery by investing in high-quality office space for workers" while using other vacant land and buildings to construct more housing. She cited the Balboa Reservoir housing project — which is being built on vacant San Francisco Public Utilities Commission land — as an example of the type of work she hopes will become more common.
"Again, it's about what's possible. We aren't saying that all of this is absolutely going to happen, but all of it can happen, and that's what we need to start thinking about," Breed said Tuesday. "Let's be the city that imagines what's possible, the city that finds the way to make possibility a reality. Let's not throw up roadblocks. Let's remove barriers, not just in our policies but in our vision for the future of our city."
More on Balboa Reservoir, click here.
Posted in: News