Posted on: April 15, 2020
Mississippi Hardware Renovation Building Moves Forward Despite COVID-19 Delays
Source: Mississippi Business Journal
Posted by Ted Carter  | Wednesday, April 15, 2020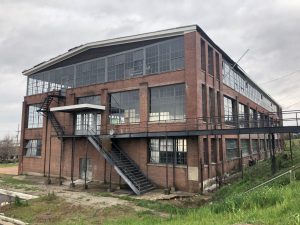 The emergence of the COVID-19 pandemic has so far caused only slight delays for a years-long public-private effort to transform high-tech ideas born in Vicksburg for military and homeland security purposes into job-creating commercial uses.
The virus crisis could also create slowdowns or even funding losses of money pledged from state and local partners for the $22 million project, though the federal government's desire to ease economic distress could open up more opportunities for obtaining economic development tax credits, project planners say.
The work delay comes as the first phase of renovating the project's home, the historic Mississippi Hardware Building at 1622 Washington St., nears the three-quarter completion mark, say principals of the public-private initiative launched by the Warren/Vicksburg Economic Development Foundation.
"It has set back our releasing the scope of work for the second phase construction (site work and core infrastructure) by probably a month," said developer Tim Cantwell in a mid-April email. Cantwell in the middle of the last decade converted the historic 10-floor former Trustmark Bank building into a mixed use now occupied by Trustmark, apartments and the Key City Brewery and rooftop Cottonwood Public House.
The Mississippi Hardware Building envelope is "virtually" completed, added Cantwell, who noted some work has been slowed by the need to maintain physical distancing.
In an interview last month before the virus spread across the country, Cantwell predicted tenant move-ins could begin as early as the first quarter of next year. "We're starting to line up tenants now," he said at the time. The Vicksburg-Warren County Chamber of Commerce, and sister entities the Warren/Vicksburg Economic Development Foundation and the Warren County Port Commission have signed on for space in the approximately 60,000 square foot building. Each floor has about 15,000 square feet.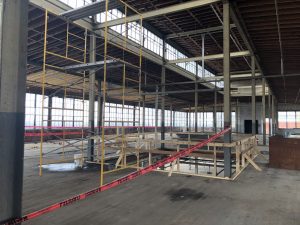 Hinds Community College is expected to be an early tenant as well.
The county and city business support organizations combined in 2017 under the umbrella of the Vicksburg-Warren Partnership. How did a project the Vicksburg Post calls "generational" and proclaimed by local officials as "transformational" come to be?
The planned Thad Cochran Center for Technology & Innovation grew largely from Dr. Jeffrey Holland's conclusion that the U.S. Army Engineer Research & Development Center he led until his retirement there years ago represented a gold mine of innovative ideas, as did the regional headquarters of the Army Corps of Engineers in Vicksburg. These ideas and innovations carried the potential to create a high-performance economic engine for Vicksburg and the rest of Mississippi through technology transfers, he decided.
Beyond such transfers, Holland's strategy for the Cochran Center includes grooming small and mid-size Mississippi companies to gain contracts from ERDC and the Corps of Engineers.
Holland, now president of the Warren County Board of Supervisors,  spent the past several years lining up federal, state and local support for a public-private partnership requiring financial commitments of slightly more than $20 million. His partners in the Economic Development Foundation decided the four-floor circa 1936 Mississippi Hardware Building, vacant since 2013, would be the best location.
That made Cantwell a key recruit to the project, since he owned the building. A self-described "bricks-and-sticks guy" with experience around the country restoring historic properties and converting them to commercial uses, Cantwell said he saw great appeal in Holland's idea of leveraging the mindpower of the hundreds of PhDs and high-level scientists, researchers and innovators employed by the federal government in Vicksburg.
"It gives me chills to think of what might happen if we accomplish just a fraction of what we're supposed to accomplish," the California-based Cantwell said in an interview.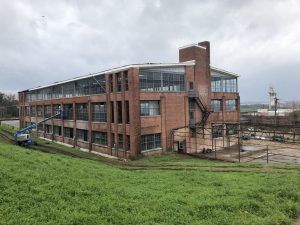 At this moment, said Holland, "I'm guessing conservatively a hundred people could develop start-ups from the technology I know is on the shelves at ERDC."
For instance, ERDC's bomb-crater filling technology is an obvious candidate for transfer to a Mississippi market sorely needing new and efficient ways to fill road craters and potholes, Holland noted.
"We're working on the transfer to help people not used to working for the Department of Defense. We'll take stuff that we're allowed to bring to the public sector," he said.
"All of those technologies you commercialize represent an opportunity for a small business to be formed and for a little startup to be started right here in this community."
This is an opportunity, Holland said, to "turn that kind of technology loose in a state like ours where only 2 percent of workers are working in high-tech."
Vicksburg Mayor George Flaggs said he saw the potential in Holland's technology transfer ideas right away and helped to persuade the Board of Aldermen to make a $300,000 annual commitment to the innovation enter.  "He is the visionary," Flaggs said of Holland, in an interview. "I am just trying to make sure it comes to fruition."
The Cochran Center, he said, "is going to be the technology gateway to this state."
Meanwhile, Cantwell and Holland so far do not see the COVID-19 crisis greatly impeding progress on conversion of the Mississippi Hardware building.
Just last month the project was a couple months ahead despite weeks in which "it rained like cats and dogs," Holland said.
Cantwell said meeting historic preservation standards presents a "great deal" of challenges. With the Hardware building, for instance, Cantwell and his partners had to use replacement windows of quarter-inch thickness, an effort that required 5,047 new panes of glass. Along with that expense came higher cooling and heating costs. "It's not a very energy-efficient building," he said, and explained that maintaining the historic nature of the structure doesn't leave much room for energy-saving measures.
"We were not permitted to do a number of things that would improve energy efficiency."
Workers completed the window replacements and in early April put a new roof on the building.
"The building envelope is completed," he said.
The overall first phase of the project is about 70 percent finished, according to Cantwell. Yet to be done is some of the interior work such as the building's signature center stairway, the interior exit stairway on the north end and prepping and patching hardwood floors on the second and third floors.
Next up in phase two is site work, core HVAC installation and putting in permanent power, Cantwell said. The coronavirus pandemic has set back releasing the scope of the work by about a month, he added.
As Holland sees it, the same attribute that makes for successful real estate – location, location, location – provides the key to success with the Cochran Center project. "That is what makes this opportunity so remarkable," he said. "You've got a $1 billion lab with 350 PhDs and 500 master degree people right here… to leverage."
Posted in: News