Posted on: March 14, 2022
Creating Vibrant Neighborhoods with Affordable Housing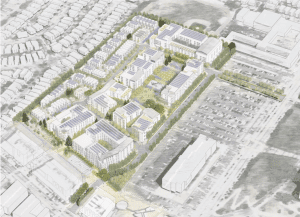 Please join us for CREW SF's First Real Estate Luncheon of 2022! This year we welcome a group of panelists to share their expertise on the up-and-coming Balboa Reservoir Affordable Housing Development, and expand on the future of this project as we navigate the world post-COVID. The panelists for this Luncheon include Brad Wiblin (Executive Vice President at BRIDGE), Karen Murray (Partner at Van Meter Williams Pollack), Peter Waller (Principal at PYATOK architecture + urban design), and Nora Collins (Senior Director of Development at AvalonBay). The moderated discussion will touch on the project's development arc from the planning process of affordable housing to what it is today. We will also discuss licensing/entitlements in a pre- and post-COVID environment, impacts on interior design spaces, and much more!
The Luncheon will be held at the City Club and lunch will be provided. Don't miss this opportunity to learn about how affordable housing can create a vibrant neighborhood. Seats are limited so make sure to register before the event sells out.
Early bird pricing ends Friday, March 18. Regular registration ends Monday, April 11.
DATE: April 13, 2022
LOCATION: City Club of San Francisco, 155 Sansome Street, 10th, San Francisco, CA 94104
TIME: 11:30 a.m. – 1:30 p.m.
Members: $85 (in-person) | $65 (in-person early bird) $20 (virtual)
Nonmembers: $105 (in-person) | ($85 in-person early bird) $35 (virtual)
Register today using this LINK.
Posted in: News