Posted on: November 3, 2023
SAP Feature:
2030 By the Numbers
: 2022 AIA Summary Data Report
The AIA 2030 Commitment just released the 2030 By the Numbers: AIA Summary Data Report for the 2022 year. The overall numbers of the impact of the 2030 Commitment are inspiring. We encourage you to read over the entire report, but at a glance: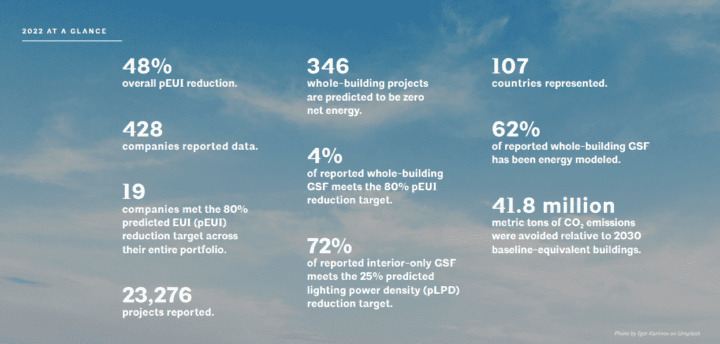 Take a look at how VMWP compares to the 428 firms that reported in 2022. 
VMWP's projects reported 13% higher pEUI reduction overall compared to other reports.
VMWP is one of the 33% of the signatory firms who reported in 2022.  
19% of VMWP's projects met the 80% pEUI reduction target, while 4% of all reported projects met the 80% target. 
"VMWP is ahead of the curve, but we are not there yet." says Pam Goode, VMWP Associate Principal, Architect, LEED AP Homes and Certified Passive House Designer. "We are proud to report to the DDx for the 2030 Commitment for the third year" she said. While VMWP is founded on the principles of sustainable design and social justice, we are not motivated by certificates on the wall or awards, but we feel that the AIA Commitment is worth our effort. We wholeheartedly support this undertaking and the like-minded firms that have committed to carbon neutrality.
Why Commit?
Environmentally intelligent building design and urban planning are crucial to the world's future.
What is the Commitment?
The AIA 2030 Commitment is an actionable climate strategy that gives us a set of standards and goals for reaching net zero emissions in the built environment.


How to Reach the Goal?
In brief, we strive to meet these goals by improving our current integrated design approach, pushing our realization of significant reductions in the use of natural resources, non-renewable energy sources and waste production, and promoting regeneration of natural resources as defined in our Sustainability Action Plan (SAP).
Questions?
Should you have any questions about the  AIA 2030 Challenge and VMWP's Commitment, Pam Goode is your resource at pam@vmwp.com.

SAP Feature:
As signatories of the AIA 2030 Challenge, VMWP has committed to make all new buildings and renovations carbon-neutral by the year 2030 to avoid the catastrophic effects of climate change caused by the building sector. As part of our Sustainability Action Plan (SAP), we vow to share our knowledge of sustainability practices with our design community.