Posted on: September 16, 2020
Community Impact Project
Eagle Park Apartments
1701 W. El Camino Real, Mountain View
An underutilized parcel with a dilapidated industrial building on a site located between Shoreline and El Monte has been transformed into a desirable affordable rental apartment community for military veterans. Eagle Park Apartments is the first affordable housing development in Mountain View to provide 67 living units specifically for homeless military veterans, whose incomes are extremely-low and very-low as defined by the U.S. Department of Housing and Urban Development.
The four-year infill project located at 1701 W. El Camino Real was the result of a strong partnership between Alta Housing, a nonprofit that develops and manages affordable housing in Silicon Valley, and the City of Mountain View.
Silicon Valley remains one of the nation's most expensive housing markets. Homelessness has emerged as a national problem over the past few years, and California is home to more than a quarter of the nation's homeless vets.
This is the first affordable housing development in Mountain View to set aside units specifically for military veterans. As such, the city wanted to ensure the success of the project beyond the completion of construction.
It is part of the El Camino Precise Plan whose goal is to transform El Camino Real into a "grand boulevard."
Additional support from Mountain View, Santa Clara County, and the local Veterans Affairs office ensures that comprehensive supportive services are offered to all tenants, with additional services for homeless veterans.
Amenities include on-site services that help residents thrive. The ground floor has offices and meeting space. An on-site resident services coordinator organizes and provides help with job readiness programs, educational assistance, financial planning courses, independent living skills and counseling services.
The building was designed with homeless, veteran and/or disabled tenants in mind. Each floor is a distinctive color so residents can quickly identify where they are. Particular attention was paid to noise, and vibration acoustic controls throughout the building limit noise transfer and provide a calm environment that would limit potential PTSD triggers.
Cost: $33 million
Size: 67 units in a 63,300-square-foot-building on 20,000 square feet of property
Status: Completed in July 2019
Features: Community gardens, native low-water landscaping, cool roof, metal sunshades and awnings, dedicated and secure bicycle storage, solar panels for solar hot water preheat
Challenges: Assembling all of the financing for the project was a huge hurdle. The City of Mountain View facilitated a meeting with Google — one of its largest employers — who stepped in with $1.5 million in funding to close the gap
Tidbit: Like many infill developments, the parcel is irregularly shaped. The design team took advantage of the parcel's geometry to create various outdoor community spaces for exercise and socializing.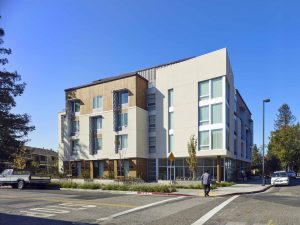 Key Players
Owner: Alta Housing (previously Palo Alto Housing)
General contractor: Branagh Construction
Architect: Van Meter Williams Pollack
Landscape architect: Hill and Associates
Engineer: LUK and Associates
Financial partners: City of Mountain View; U.S. Bank